Deputy Armed Forces Vice-Admiral Viktor Bursuk, Deputy Chief of the Russian Navy for Arms, on the air of the TV channel "
Россия 24
»Announced that by the end of 2017, the Black Sea Fleet will receive all the submarines of the 636.3 Varshavyanka project, equipped with Caliber missiles, ordered by the Ministry of Defense. According to Vice-Admiral Bursuk, the Black Sea Fleet has not been properly strengthened for many years, but now an extensive program is being implemented to re-equip the Russian Black Sea Fleet, including its underwater component.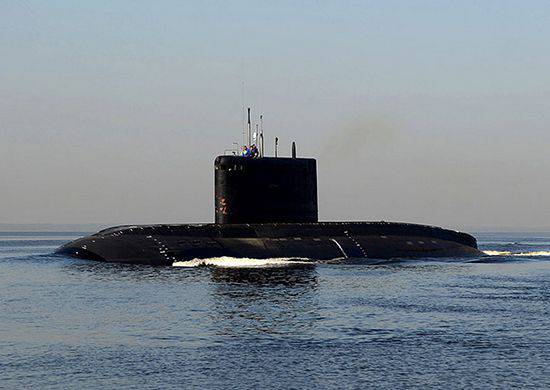 Viktor Bursuk notes that the "partners" were seriously impressed by the launches of the Caliber rockets made by the Caspian ships
flotilla
.
Vice Admiral Bursuk:
Nobody in the world could have thought before that on such small displacement ships of the 21631 project it is possible to install such a formidable
weapon
.
We are talking about small rocket ships "Grad Sviyazhsk", "Uglich" and "Great Ustyug", which are part of the Caspian Flotilla.
Meanwhile, in the West, they are still trying to declare that not all of the Caliber NK cruise missiles launched by Russian ships hit the terrorist bases in Syria, and that some of the missiles allegedly fell in Iranian villages. Russian Ambassador to Iran Levan Dzhagaryan commented on the accusations against the Russian Federation (quote
RIA News
):
And I want to say that 7 of October launching 26 missiles from our ships that were stationed in the Caspian Sea, naturally, we coordinated with Iran, because these missiles crossed Iran's airspace. I would like to take this opportunity to say that not a single rocket fell on the territory of Iran, and those people who spread these false fabrications expressed wishful thinking.