The government army of Syria, using the results of air strikes, focused its main efforts on conducting offensive operations in the provinces of Lattakia, Aleppo, Homs and Idlib, reports
RIA News
the message of the Chief of Operations Department of the General Staff Andrei Karpapolov.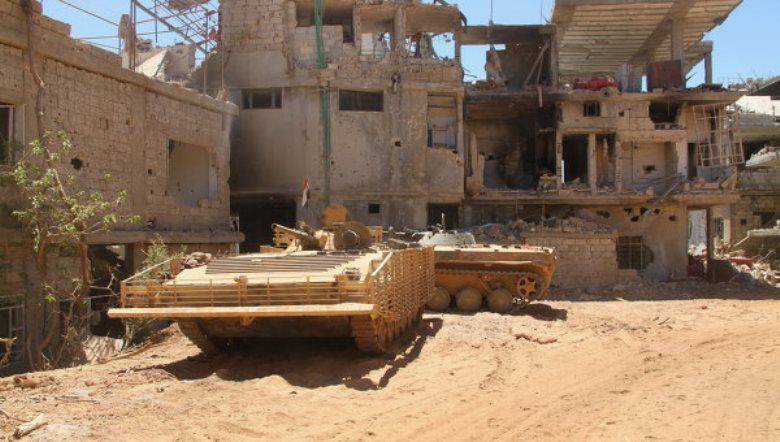 "The fighting is mainly around settlements where the Russian
aviation
it's not used, and the Syrian troops use heavy artillery exclusively on hidden firing points, "said Kartapolov.
In the province of Latakia, 2 settlements are blocked.
"The settlements of Salma and Sirmania are blocked, preparations are under way for their cleaning," the general specified.
According to him, "the mountainous regions of the province are assault detachments of government troops and national militia that conduct reconnaissance and search actions in their own directions in order to identify weak points in the enemy's defense and suppress his firing points."
In Aleppo, Syrian troops in the coming days will release Quaires air base.
"They are currently developing an offensive in the direction of Quirez air base. According to our calculations, the airbase will be released in the next few days. Before the units defending this airbase, it remains to go about 7-8 kilometers, "said Kartapolov.
In addition, several settlements have been liberated in the province. "South-west of Aleppo, the Syrian troops, overcoming the stubborn resistance of the terrorists, liberated the settlements of Sabikia, Khan-Tuman, Karasi, Khan-El-Assali and Shukaydil, and have now reached the approaches to the city of Balas, where they are preparing for his assault," - he said.
"It should be noted that the acceleration of the pace of the offensive is often hampered by the fact that the militants, in order to protect themselves against fire, hide behind a human shield from the local population, as was the case during the liberation of the settlement of Khan Tuman," the general added.
According to him, some commanders of bandit groups have already begun to ask for negotiations.
"Individual field commanders are beginning to enter the Syrian troops with proposals for private truces and negotiations," said a spokesman for the General Staff.