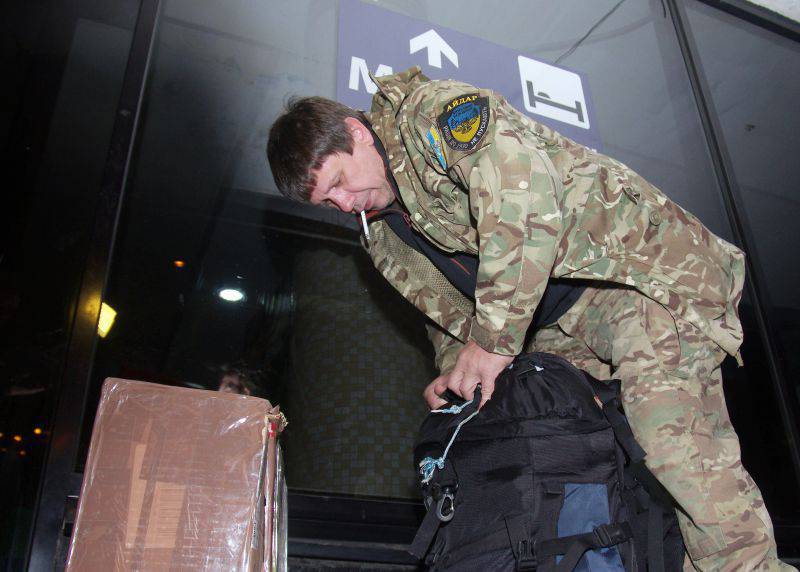 When the separatists launched a war in eastern Ukraine, hundreds of Russians, Belarusians and other foreigners rushed to the aid of Kiev. As a result, these people were left to the mercy of fate.

In May, 2014, Rudolf, an 19-year-old student from Belarusian Gomel, saw a Facebook post that inspired him. "This is not a war between Russia and Ukraine - it is a war of freedom against lawlessness," wrote Semyon Semenchenko, commander of the Donbass volunteer battalion who fought against the pro-Russian separatists in eastern Ukraine, and a prolific blogger. Kombat called on Russians and Belarusians sympathizing with Ukraine to help their neighbors in their distress. He announced that he was ready to accept foreigners to his part, "sharing our views and wanting to help the Ukrainian people in their struggle."
Rudolph designed his academic leave and went to Kiev. He enlisted in the Semenchenko battalion, which became part of the Ukrainian National Guard and fought together with the Ukrainian army in the Lugansk and Donetsk regions, which were partially captured by the rebels proclaiming independence. "I considered it my duty to protect Ukraine from Russian aggression, which affects all neighboring countries," this lanky former computer student told me a month ago. Last summer, when the Ukrainian forces beat off the enemy from Artyomovsk and Lysychansk — and when they lost vast territories near the Russian border — he served in the battalion communications unit. Now the conflict that claimed 6800 lives is frozen.
Now Rudolph has been living in Kiev for several months and is spending the night with friends on the sofas. He still wore a uniform with an armband in the form of a red and white Belarusian flag. He is unable to get legalized in the new Ukrainian life. The 90-day visa-free stay, which, according to Ukrainian laws, is supposed to be Russians and Belarusians, has long expired. At the same time, information about his service in the Donbass battalion came to the Belarusian KGB closely connected with Moscow, and he cannot return home.
Rudolph is just one of many foreign volunteers (mostly from Russia and Belarus) who risked their lives for the government in Kiev, which promised them Ukrainian passports for them, and ended up stranded. The Ukrainian army does not allow foreigners into its ranks, so foreign supporters of the Maidan joined the volunteer battalions. There were about a dozen such battalions that were supposed to protect Ukraine from the alleged invasion of neo-Soviet Russia. In most cases, foreign volunteers moved deep hostility to the political course of Russian President Vladimir Putin. Volunteers from Russia believe that Putin is destroying the Russian economy and Russian society, and volunteers from Belarus, that he turned their country into a Russian protectorate, placing their troops in it.
"Show that the face of Russia is not Putin," wrote Semenchenko to Facebook on 14 in May on 2014, a few days after the rebels in Lugansk and Donetsk organized a referendum, and a month after the inexperienced and poorly funded Ukrainian army began its operation against the separatists.
Before going to war, people who responded to this call were trained along with the National Guard. They checked their past, they swore allegiance to Ukraine. According to Rudolph and other volunteers, Interior Minister Arsen Avakov called them heroes and promised them "accelerated citizenship." Later, their battalion was incorporated into the National Guard, but the government did not process their documents. This meant that the volunteers did not receive either salaries or Ukrainian passports, but they thought that after the victory over the separatists everything would be resolved.
"As a result, they sent us to the east, and did not understand this problem. We thought: "Ok, let's talk after the victory." However, it turned out that the offensive was replaced by a withdrawal of troops, then the conflict was frozen, and as a result, those who had no documents were thrown into a peaceful life without means of livelihood, "Rudolph told me when we sat with him in a cafe in the center of Kiev . Later, he returned to the front line again, but this time as part of a paramilitary group, which did not ask him for any official papers and did not promise him any documents. Returning, he was stranded again.
Last December, Ukrainian General Alexander Rozmaznin announced that about a thousand foreigners had fought on the Ukrainian side. Statistics on their countries of origin is classified, but, according to the general, among them were people from all over the former Soviet Union and from outside, including from France and the United States. Rudolph said that he personally knows 50 former volunteers who now live without documents in different parts of Ukraine. In total, he estimated that there should be several hundred. Many of them are probably hiding, fearing that the Ukrainian authorities are deporting them because of their illegal status.
The position of some former volunteers seems particularly difficult. Sergey, a young Russian oppositionist from Ulyanovsk, fought in the Shakhtersk volunteer battalion subordinate to the Ministry of the Interior, which was later disbanded for looting. In July, he was detained in Dnepropetrovsk and ordered him to leave the country. Sergei was afraid to return to Russia and instead headed back to the conflict zone. There, last month, he stepped on a mine and almost lost his legs. While his friends were collecting funds for the operation on Facebook, officials of the migration service brought an order to deport him directly to the intensive care unit of the hospital.
Yulia also has a hard time. This miniature 20-year-old girl, known as "Valkyrie", came from the south of Russia to participate in demonstrations at the very beginning of the Ukrainian Maidan. Later, she fought in the Aydar battalion, a nationalist volunteer unit accused of human rights violations, which this year was included in the Ukrainian army. During the fighting, she lost her passport. Now, after months, she continues to be in Ukraine. Here she gave birth to a child, but she cannot receive either a birth certificate or medical assistance for him.
* * *
Last year, the commanders of the Ukrainian volunteer battalions repeatedly wrote to President Petro Poroshenko and repeatedly presented him with lists of foreign fighters deserving citizenship. The presidential administration did not answer them. However, this does not mean that the government does not accept foreigners in the country. December 2 Poroshenko's 2014, which has the right to grant citizenship by decree, issued Ukrainian passports to several foreign nationals who will conduct economic reforms in Ukraine. Among them, the American investment banker Natalia Yaresko, who became the Ukrainian Minister of Finance, and the Lithuanian investment banker Aivaras Abromavicius, now the Ukrainian Minister of Economic Development and Trade.
"I want to say hello to my fighting brothers," Poroshenko said that day in his speech to parliament, responding to the request of the commanders. - Your appeal to the President of Ukraine regarding the granting of Ukrainian citizenship to Belarusians, Russians, who
weapons
together with you, we defended the honor and independence of the state ... As I promised, I will sign a decree granting them Ukrainian citizenship. " The deputies greeted his words with jubilation and applause.
Many months have passed since then, however, according to the soldiers, for all the time only two foreign volunteers received citizenship by presidential decree - and both cases were purely political PR. Meanwhile, the Russian authorities filed cases against several volunteer battalion fighters, while Belarusian President Alexander Lukashenko made an ominous promise to "deal" with those fighting in Ukraine, "when they return to the country."
Sympathetic volunteers lawmakers this year proposed two bills that should facilitate the procedure for obtaining a residence permit and citizenship for those who want to serve Ukraine. October 6 Parliament voted to allow foreigners to join the Ukrainian armed forces. However, even if these laws, hung in parliament for months, still pass, they will not help those who have already expired legal stays in the country. The heroism that volunteers showed at the forefront last year has no legal weight for migration service employees who do their work.
"In my opinion, it is quite obvious that for these people it is necessary to simplify the mechanism for obtaining citizenship. It's hard to say why it's impossible to put it to the vote, "says Natalia Veselova, a deputy from the pro-European party" Self-help ". Last year, she was one of the founders of the Donbass battalion (the battalion commander Semenchenko now also sits in parliament). "I don't understand why this is so, but now there is no political will [to resolve this issue]," she notes. Although the government does not want to carry out indiscriminate naturalization in order not to "give shelter to criminals," Veselova explains, throwing volunteers to the mercy of fate, the authorities make of them criminals in their own countries. "These people can go to court in their homeland simply because they fought for us."
The fighters are especially outraged that Russians such as Maria Gaidar, a former Russian opposition activist who became the deputy governor of Odessa, receive citizenship. In May, the Odessa region was headed by ex-president of Georgia Mikhail Saakashvili who flew in from Brooklyn. He was also granted Ukrainian citizenship. In addition to Gaidar, Poroshenko also issued a Ukrainian passport to a Russian native, Vladimir Fedorin, the former editor-in-chief of the Ukrainian version of Forbes. According to official statistics, in the first eight months of 2015, Ukrainian citizenship, under presidential decrees, received a total of 707 people. Some of them are foreigners specially invited to the civil service, but they do not disclose the full list of the authorities, which causes additional questions for volunteers.
"Why should [Gaidar become a citizen]? - surprised 35-year-old Russian Gennady, last spring, commanded a platoon on the front line in eastern Ukraine. - If you need to work for the state for this, I am even ready to hire a driver. We do not ask for money, do not ask for wages. " The term of legal stay of Gennady in Ukraine expired when he was in hospital with a wound received in May during a raid on the territory of the separatists near the village of Peski in the Donetsk region. "The police at any time can stop me on the street and deport me," said the former fighter of the nationalist group Right Sector by telephone from an unnamed Ukrainian city, where he was hid by good people. "This is simply unfair to the children who risked their lives for the independence of Ukraine."
Dmitry, who also fought in the ranks of the Donbass battalion, believes that the example of volunteers demonstrates that the Ukrainian leadership cannot be trusted. "For me personally, our
история
Is an indicator. When Poroshenko on TV says: "Russia attacked us, and money for
Tanks
we don't, "I can understand that. But he promised us passports that cost Ukraine nothing. You can sign the decree in five minutes. Why doesn't he do that? Probably simply because he does not want to. In this case, it is possible that he also does not want to win the war, "he says.
Dmitry, a 40-year-old Belarusian citizen, moved to Ukraine back in 2007. He now lives near Kiev with his wife and child. He has a Ukrainian residence permit, but his position is also fragile, as his passport ends soon, and in order to change it, Dmitry will have to go to Minsk, the capital of Belarus. For him, as for a man who fought with the pro-Russian separatists, it can be dangerous. "We are completely powerless and defenseless and we can't do anything about it," he adds.
According to Dmitri, the humiliation of foreigners who fought on the side of Kiev is aggravated by his own front-line experience. He recalls how the disorganization of command led to huge losses near the city of Ilovaisk. Not believing the promises of the enemy to provide the surrounded Ukrainian forces with a "humanitarian corridor", Dmitry and a handful of comrades broke away from his unit and began to get out on their own. They walked for five days, and then they were able to request help and get to the Ukrainian positions that were 50 miles away. He was lucky: hundreds of those who listened to their commanders, died or were captured by the rebels and went to forced labor. The slaughterhouse of Ilovay, the circumstances of which Ukraine is still continuing to investigate, has become a black hour for the Ukrainian army. The Ukrainian command blames Russian disinformation for everything, but the fighters themselves are completely blaming the Kiev generals.
Foreign volunteers, like many of their Ukrainian comrades, also accuse the military leadership of the fact that Ukraine failed to repel the captured territories from the rebels. Bureaucratism prevented the admission of those who wanted to fight into the armed forces, and the recruits were deprived of fighting spirit and poorly prepared. Once in the war zone, they were literally numb with fear and vodka. "We lost the Donetsk airport, we lost Ilovaisk, we lost Debaltseve," Dmitry lists a series of bloody failures. None of these defeats led to a change of command.
"Once, a whole company just fled from the sound of our own machine guns," recalls Rudolph an episode that occurred in the winter when he briefly returned to the front with the Right Sector — the only ones who at that time continued to receive foreigners. When the "Right Sector" did not fight, its members fought drunkenness in the army, searching local shops and houses of local moonshiners and pouring out the alcohol found.
* * *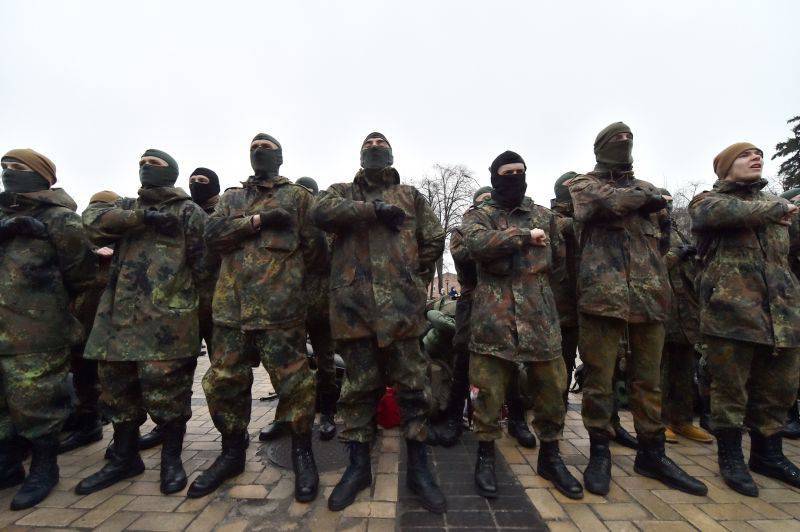 Russian media talk a lot about "foreign mercenaries" from the United States and Scandinavia, having fun with the killings of civilians, and "fascist" units, staffed by far-right extremists. Especially often in this context the Right Sector and the Azov battalion were mentioned.