More than a week has passed since more than 50 tons were dropped from American aircraft to representatives of the so-called "moderate Syrian opposition"
weapons
and ammunition. Correspondents of a number of media outlets tried to find out exactly which "moderate oppositionists" received the weapon boxes, and how they used their contents. So, the news agency
TASS
, referring to the American media holding "Macklatchi," reports that none of the leaders of the leading formations of the so-called "Syrian Free Army" (FSA) knows anything about US military assistance. According to representatives of two large SSA compounds, the cargo dumped by the Americans was not exactly received, and the Kurds could receive it, in their own words.
If the cargo was intended for Syrian Kurds fighting with ISIS, then for what purpose did the Pentagon spokesman, Mr. Cook, declare that the cargo dropped from American aircraft fell into the hands of the Arab SSA forces?
TASS
quotes Cook:
This (load) was intended by the Syrian Arab coalition. And the ammunition got to the people they intended.
Given the numerous ethno-geographical incidents that arise with US officials, the question arises: are they able to somehow distinguish between Kurdish and Arab armed formations? If so, how does Washington explain to NATO partners from Ankara what exactly helps the Kurds, whom Ankara, for example, will want to bomb, bypassing the positions of ISIL with their attention?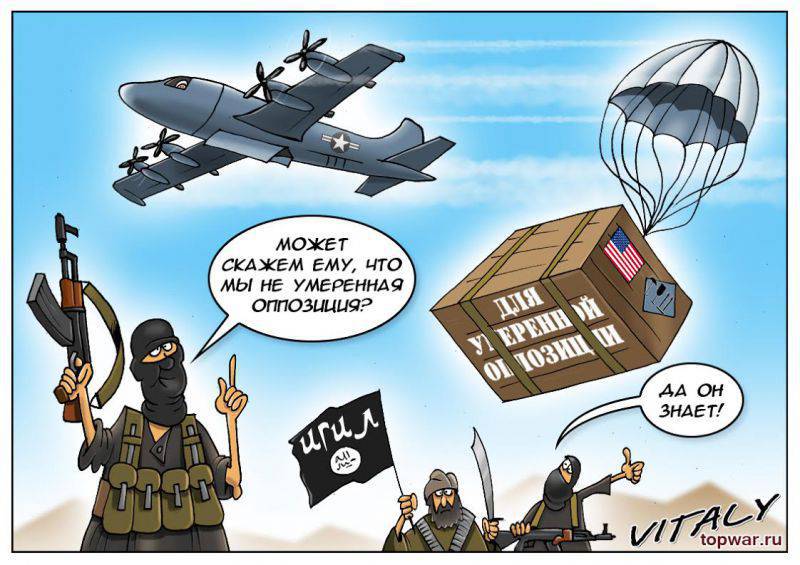 Kurdish representatives are not reporting anything about getting ammunition and weapons from Americans. Either it is a banal reluctance to talk about the supply of arms by the Americans, or completely different people have received ammunition ...
Some representatives of the Russian authorities believe that the ammunition dropped by the Americans in northeastern Syria should be sought in the militants' depots.