The production of shells in Russia can be considered over
No matter how much buried artillery, it was, is and will be the god of war. Evidence of this is all the armed confrontations of our time. But without enough shells, cannons are useless.
I am not a tanker. And I am not going to criticize the Armat combat vehicle. Perhaps she really is the best in the world. But in my shell business, I am, I will say, without false modesty, an expert. Thirty-six years engaged in the technology of mechanical processing of artillery shells. I know in all necessary details what the mass production of ammunition is.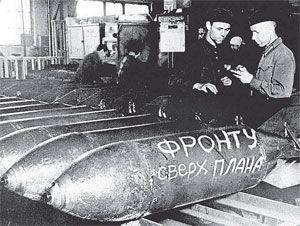 No matter how good the tank is, but without shells it turns into a burden for the army. Vasily Grabin called the tank a gun wagon. As for the "Almaty", it threatens to become a vehicle for the crew, hidden in a capsule, if the shell issue is not resolved.
In accordance with plans until 2020, it is planned to adopt 2300
tanks
"Armata" (and this is not counting the cars on its platform). Uralvagonzavod intends to produce 500 units per year. "Armata" is equipped with a 125-mm cannon much longer than the existing ones with the new BPS (armor-piercing-submunition shells) "Vacuum-1". In addition, it is stated that this is a temporary solution. And on the approach a 152-mm gun, the shells of which are capable of burning a meter of steel. Thus, the tank for many years will be inaccessible to competitors. Hearing about this, I perked up, imagining how much work for us, projectile specialists.
In ammunition "Almaty" 45 BPS caliber 125 millimeters. Caliber 152 millimeter will obviously not be more than thirty units. The developers comment on the situation as follows: of course, the ammunition for the 152-mm gun will be significantly less than for the 125-mm. Let's do arithmetic.
Multiplying 30 shells by 2300, we get 69 thousands. This is for all tanks and only for one battle. And the whole war? It is easy to figure out: for tanks such as "Armata" you need at least a million shells per year. But there is also the "Coalition", and self-propelled and towed howitzers tested in battles, which will remain in service with our army for a long time. We are talking about millions of shells.
Who and where will they be manufactured if, at present, the shell production in our country has been almost completely destroyed? For "Armat", passed on Red Square 9 May, they can be done on the knee. And for the entire planned fleet of these cars? Mass production of ammunition is not as simple as it may seem.
So where are they going to do anyway? To me, the old projectile, in spite of the knowledgeable of all those more or less capable of this production, it remains only to be perplexed. For maneuvers and demonstration shooting, there is no doubt that shells will be stockpiled. And in case of a big war, when ammunition will be required by front echelons? Do not assume that the fighting in the Donbass continued until the last stocks of Soviet shells ended? And at the same time on both sides.
I thought that our shell institute, which in its defense industry is a backbone, will finally be in demand - TNITI (Tula Technological Research Institute of Technology). After all, we are talking about nothing less than the security of the country, the fate of the Armata tanks, the equipment industry and the unique institute of TNITI, which in my opinion live the last days thanks to the concerns of reformers, who had become famous.
Recently, I was at a meeting of shareholders TNITI. There was a question about the early resignation of the director. When he reported to the team, he asked what he thought about the prospects of the once powerful institute of production and production, designed to provide plants for the industry with new technologies, machines and non-standard equipment?
The director did not say anything intelligible. But after he proposed another reduction of workers, out of the crisis, of which there was absolutely nothing left, and to rent out the last production space, there was no desire to ask him anything.
In conditions when everything at the enterprise is decided by several people who have the lion's share of the shares, voting turns into a formality, into a fiction. Judge for yourself. Out of a thousand-plus shareholders, there were hardly a hundred. Nevertheless, the quorum gathered. Contrary to the wishes of the team, the director remained in office - to complete the last act of our tragedy, which stretched over 25 years.
The production of artillery shells in my memory was already in a similar position as a result of the reforms of Nikita Khrushchev. The leader of the Soviet state, suffering from a heavy rocket attack, defeated domestic artillery under zero. And at the same time and ammunition industry. After this pogrom in Tula, a shell institute was created in 1966, and we had to start literally from scratch.
By 1990, TNITI has become a truly unique institution - with its machine-tool production capacity of up to 150 machine tools per year, as well as non-standard equipment throughout the entire ammunition production cycle, from billet to finish. Three and a half thousand employees, a branch of the department of the Tula Polytechnic Institute, the training of engineering and scientific personnel - 40 candidates of technical sciences exclusively from their employees.
And today we should start with this. At the former shell plants a lot of free space, but the equipment is worn to the limit. Back in 1985, it was planned to completely replace it by the year of 2000. One can imagine what the age of the machine park is today - that part of it that is not scrapped, sold out and not taken apart for spare parts.
Maybe someone thinks to buy equipment abroad? However, neither America nor Europe will sell us the equipment for sludge production. Look at which machine tool plant was built by the German concern Gildemeister AG in Ulyanovsk. ECOLINE machines for someone, maybe, are good, but shells cannot make them. And judging by the fact that 1000 machines will make 200 workers, this is a screwdriver assembly.
By the way, this is what G. Samodurov, head of the Association of Manufacturers of Machine Tool Products, says: "... there is complete statistics showing how we are restricted in supplying a modern product, we are prohibited from supplying modern equipment to Russia for defense industry enterprises that work in dual technology. If they receive this equipment, it is done in different roundabout ways, through third-fourth countries, but this is not the case. And we have a lot of examples when they stop and shut off foreign equipment, especially American-made. We can recall specific facts, for example, in 2010, and in 2011, and in 2012, when a number of enterprises turned off equipment when moving it a meter or two from the initial installation site "(" Aging machine park "," VPK ", No. 7, 2014).
How to convey to those on whom the defense capability and security of the state depend, which is not too late, it is necessary to restore TNITI at least in the former Soviet dimensions. We must buy equipment for it, cherish it. There is simply no other way, in my deep conviction. But today TNITI can practically nothing of what it has done before. The staff is only 300 people, of whom hardly a hundred workers. We are talking about walls, factory buildings and traditions. If the state wants to revive shell production in Russia, it is impossible to do without a technological institute with a powerful machine-tool production.
Why is it necessary to revive the industry with TNITI? Do not start in the same bare spot. It was not for nothing that Tula was chosen as the location of the leading institute of the ammunition industry. There are no problems with specialists, because there is a Polytechnic Institute, which is closely related to the defense industry. And before the machine-tool plants, which ordered equipment for the industry, located mainly in the Urals and Siberia, are within reach. In addition to the slugging machines, many others were needed - artillery shells do not consist of the same buildings. By the way, we were engaged not only with shells, but with "melee combat", and NURSs, and aerial bombs, and mines, and much more.
In the meantime, we didn't set up our own plant, we went to Leningrad for the shell machines, and then to Krasnodar, where we organized the production of the KM-816 and KM-817 machines developed by our designers. When ordering equipment for my plants, I traveled all over the European part of the Union: Kiev, Kharkov, Melitopol, Minsk, Vitebsk, Krasnodar, Leningrad, Ryazan, Moscow, Klin, Yegoryevsk, Saratov, Kuibyshev, Penza, Voronezh, Zhytomyr. The entire geography of the deceased machine tool industry is in full view - some are not, and those are far away.
Dr. Kallistov, Ph.D. and academician who has worked all his life in the industry, wrote: "In Soviet times, one of the most important components of the ammunition industry was its own machine-tool industry and, on this basis, designing the technological chains of munitions factories that met modern progressive technologies and with the least labor costs allowed to produce the required amount of ammunition ... Unfortunately, currently own machine-tool industry in the ammunition industry and in our country does not exist, but because of the virtual absence of orders for the production of ammunition or miniscule amounts involved in their production of the required qualification, as a rule, no. "
And where will they come from, if only MGTU im. Bauman has a full-fledged department, training ammunition? Will graduates of this department go, for example, to the Upper Tour? And maybe they will go to Tula. Tula Technical University has not trained for a long time its personnel. Although it could.
It is easy for a specialist to calculate that the shelf life of Soviet shells is running out. It would seem that TNITI's finest hour has come - once again a state order, financial investments, work will boil. If this is not done, the ammunition industry will remain at the bottom of the trough. Artillery shells will have to buy from China, Israel, the western neighbors of the former Warsaw Pact, which we ourselves once helped set up production.
Throughout the First World War, up to the 1916 year, until the Brusilov breakthrough, the Russian army suffered from a shortage of artillery shells. In 1916, the defense industry produced their 50 millions, eliminating the deficit. But it was already too late, exhausted by exhausting battles that did not lead to results, the army not only did not oppose, but also took the most active part in two revolutions.
In the Great Patriotic War, despite the loss in the first months of the main ammunition factories, it was possible to restore and surpass pre-war shell production with resolute measures. In one 1942 year, 73,4 made a million artillery shells of various calibers.
However, then superiority was achieved by the selfless labor of old men, women, teenagers in the rear ammunition factories and the feat of technologists who managed to divide the manufacture of the same shells into elementary operations using universal machines. But now even selflessness cannot solve anything, since the wear and tear of equipment both in the defense industry and in machine building in general has far exceeded reasonable limits. In the event of a big war, there will simply be nothing to do with projectiles, no matter how mobilized labor resources.