Greetings to you, my dear readers. Pre-dawn time. Yesterday is over. A wonderful night came to our country. But it ends. Therefore, I hasten to share great joy with readers. Well, maybe not so great, but Arseny said that great. And we, after famous events, believe only in our own. Especially Arseny and Peter.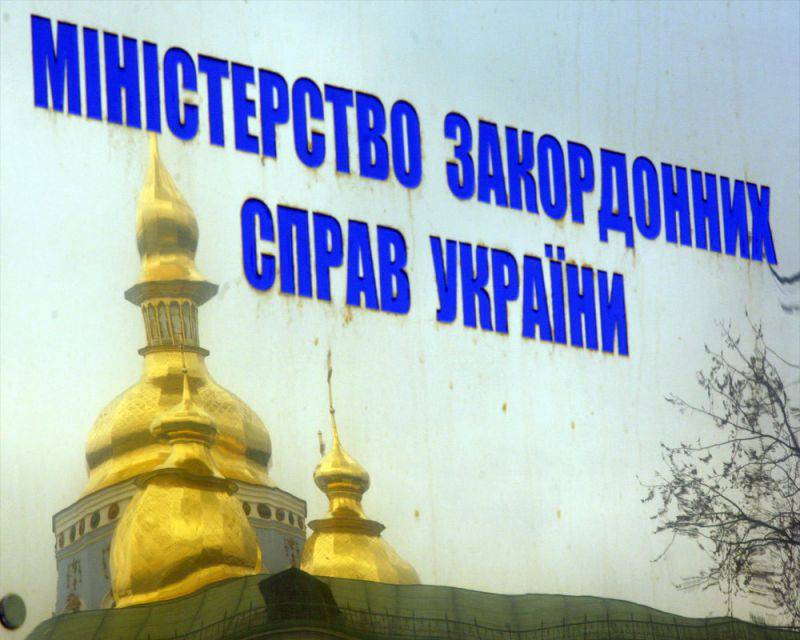 First, the title of the notes. Fans of "strawberries" can immediately stop reading. Not a German specific movie. Adult notes of a serious cockroach. With name. Here it is.
Yesterday I spent a lot of time in our Foreign Ministry. Oh, and listened to interesting conversations. Directly not the Ministry of Foreign Affairs, and "95-th quarter." What is not a replica is an explosion of laughter under the carpet. Well, in the sense of ours. And these are diplomats.
For Ukraine, the time has come for grandiose changes! The moment of truth for the Ukrainian state! Today the world will show its attitude to our reforms! A great peremoga of Ukrainian diplomacy over the Russian bear is expected! Well, further in the same vein.
You were there in your snowy forests and did not know about it. Savages, as one former deputy said. And here we have it like this.
The state is like a man. It is born, then grows up. In the pants pees (most often with the blood of their own fellow citizens). Then he starts to smoke. Vodka tries. Well, like all adults, she begins to be interested in what girls have under her skirt. And what is the organoid intended for? Except, the main organoid function.
And it turns out that this organoid in adults is called a member. And it is they who make offspring. In the sense of other states. I'm an excursion about the state lead.
Here sits such a permanent member, well, like Russia or the United States, and maybe China with Great Britain, and looks. Not just looking. And predatory. From whom to make offspring. No, the Russians in this regard do not use the member so much. But the Americans and other European countries with a permanent member completely. Look how much they gave birth. With only Yugoslavia. But in general ... Wow what members.
And the youth? Or there are old men. Well, in the sense of low-power states. For them, and came up with a non-permanent member. Like "Viagra". Used, and a member. The effect of the drug is over, and ... organoid.
They also want! So they came up with a non-permanent member. For a while. Tablets, they do not constantly act. And I want to.
And then came the great day. We were allowed for a time to turn the Ukrainian organoid into a member. Our say that Ukraine has become an arthropod. Something like cancer ... A member with legs. So send congratulations barrels.
As you probably already understood, I wrote about the great Peremog. Which took place, despite all the attempts of Russia (although no one saw these attempts for some reason). Ukraine was elected to non-permanent members of the UN Security Council.
"Thanks to the Ukrainian diplomats. Thanks to every state that supported us. Congratulations to Ukraine on an outstanding international event." These are the words of our wisest prime minister. We can be grateful. And do not forget our enemies.
I, you know my curiosity, quickly ran to ours, diplomatic. Find out and what, in fact, we will do in this Council. Sounds, of course, beautiful. But suddenly again some money will begin to demand?
So the Ukrainian son of the Mordovian people (this is not this one, not a fake, but a real fact), our Foreign Minister Klimkin replied. You can say personally. Well, really, he did not see me under the papers on the podium.
"We actually received solidarity throughout the world. Practically the whole world supports us as non-permanent members of the UN Security Council. Not just most countries supported, but almost everything, because the right is on our side. We support the UN Charter and implement its principles."
"Of course, we will fight in the UN Security Council for peace and security in the world, but also issues that are of particular importance for Ukraine will be raised. And the tragedy of the MH NUMX aircraft is one of them. The perpetrators must be brought to justice and must pay for it. The investigation should be unbiased and fair, and we hope that we can do this through the UN Security Council. "
Well, it all fell. In a sense, in its place. And the topic smoothly shifted to the discussed report of these nasty Dutch about Boeing. You, probably, have already been discussed in full. Therefore, I will not particularly load your brain with unnecessary conclusions. But I will focus on my own notes. Great cockroaches can do it. Notice the word "nasty"? This is the most correct word in Ukraine about this report. Other editor will not miss.
The same is necessary - to write 15 months. A lot of money on business trips and meetings to ruin, and what? Well, never wrote the word "Russia". Nasty, they are nasty. Ukraine, you see, is to blame. In fact, in this. Read Obama and Kerry. Our in the Parliament right on the excrement came out. They said: Russia is to blame. So it was necessary to write. But nothing, now we as a member will show them! Klimkin said.
By the way, it's interesting, but the fact that we don't denyuzhku surrendered to this very UN will have any effect on our member? Do not castrated by chance? Today, Groisman has already said that everything. Our member is such a member that will help us return the Crimea and liberate the Donbass.
Why do we need the Crimea, it is completely incomprehensible even to the most stubborn nationalists. Territory? May be. But only in order to give the coast to the Americans and Europeans for their bases and hotels. People? So everyone no longer considers them Ukrainians. How is the base of the Ukrainian Navy? So rubber boats and to the shore can moor. Without any piers there and stuff.
Yes, and Donbass. Mine and coal? Huh ... So there it is necessary to pull him out of the ground. And who will climb there, except Donetsk and Lugansk? Fearfully. It can collapse. Metallurgical plants? And why the metal, if the industry got up. Just sell? So the cost price is such that it is easier to buy in Australia.
But back to the tragic events. I mean our economy.
"For 8 months 2015 of the year:
Ukraine exported goods for $ 25,8 billion, imported - for $ 24,1 billion. As compared with the same period last year, both in exports and imports, there was a decrease in supply by 33,9% (by $ 12,7 billion and $ 12,4 billion, respectively ) ".
This is not some kind of opposition from Moscow writes. This is the official data of the State Statistics Service of Ukraine. We are not only a third less sell. But as much to buy less. Peremoga to the fullest and to the most ... ears.
"In particular, imports of goods from EU countries amounted to $ 9,842 billion, or 40,8% of the total, and decreased against X-NUMX% against January-August of 2014. Export volumes decreased by 26,9% to $ 32,5 billion, and amounted to 8,155 % in total exports. In addition, the volume of exports of goods to Russia for 32,9 months in 8 year over the same period last year decreased by 2015% - to $ 57,5 billion, the import volume for this period decreased by 3,148% - to 49,9 billion. Trade surplus was $ 4,875 million (in January-August, 619,8 of the year - $ 2014 million). "
What to say. The economy came under the power of the oligarchs and folded legs. Probably, soon there will be a solemn funeral. Even embroidery sad walks. Can not understand where now peremoga, and where zrada. It seems to be better everywhere, but in general it has become worse. Ukrainian paradox. Pure Einstein's theory of relativity. He walks, in short, after border adventures with such a view that it is possible to sculpt a statue of universal mourning from the shelling.
And now I will write about what I have never written about. Just because we have it now quite popular topic. And for some reason almost no one writes from you. I'm on the militia. More precisely, that we are talking about the morals of the Donbass. And about why anti-Donetsk and anti-Ugan sentiments are now stronger than ever. For accuracy I can not vouch. You understand that Kiev and Donetsk are far from being twinned cities.
A certain Nikolai, allegedly the commander of one of the Cossack units, was interviewed by Gazeta.ru. It is from this interview and bring excerpts.
"During the disarmament of units in July 2015, which the authorities of the self-proclaimed DNR considered disloyal, many terrorists were captured by their own."
"According to him, the detainees are held in unbearable conditions and beaten."
"This happens, usually five or six people participate, but two are beaten so that you cannot tell who exactly beat. They put a bag on my head, hands back, tight handcuffs on them, sometimes tied with a scotch to a chair. They beat with a soul, fiction ", - said the commander of the Cossack unit.
In his opinion, a "sweep" is taking place in the "DPR".
"I'll just say my opinion. All the commanders who can say no when they receive dill are now being cleaned. All units that may not fulfill the order to surrender to the enemy are disarmed. Many people think the same way as I do." declared a terrorist.
It seems to me that even if we take into account that such information is provided by the Ukrainian media, and of Russian, of a certain direction, the militia guys would be worth thinking about. Why do defectors on your side appear more and more often? Why do we have to read this and, frankly, doubt the veracity of the information. And not only from our side, but also from yours.
Okay. New is so new. Straight night peremog. I will touch on another important topic.
The European Court of Human Rights has finally recognized the right to deny the Armenian Genocide. The Strasbourg court concluded that the ban on denial of the Armenian Genocide by the Ottoman Empire in 1915 was a violation of the tenth article of the European Convention on Human Rights, guaranteeing freedom of speech.
This is how, in a European way, freedom of speech overcame the death of one and a half million Armenians in 1915-23. Just think, a half million lives. The main fundamental freedoms of democracy. Interestingly, the Armenians now strongly want such a democracy? How to perceive genocide now? It seems was, and was. Nothing wrong. Time cures?
Humans, do you even think of living on with us on this planet? Or are your scientists right? Do you really consider yourself a dead end branch of evolution? Unsuccessful experiment of nature? No cockroach will ever forget those who crushed ours. Let it be a long time, even if many generations have passed, but it was crushing. And you?
It's sad to be a Ukrainian cockroach. But even sadder to be human. And regardless of nationality. So much, sorry, manure is not in any living creature on Earth. And I'm not talking about physiology. I'm talking about human heads.
I do not want to finish sad. Because especially for my friends from Russia - cheerful. About you, Russians.
In Suzdal and other tourist cities of Russia it is necessary to regulate the movement of horse-drawn transport. This was stated by Deputy Prime Minister Olga Golodets at a meeting of the Organizing Committee for the preparation and celebration of the 1000 anniversary of Suzdal.
"It's impossible to walk around Suzdal, a horse rides, a car rides here, here are three more cars ... It's necessary to bring order", said Golodets, quoted by RIA "
News
».
The Vice Premier urged the Ministry of Transport and Rosturizm to join in solving transport problems in the regions.
"Let's prepare for the New Year and introduce the law on carriage by horse transport at the regional level, until December 31," Golodets said.
Yo-go, Suzdal! And on behalf of the Suzdal cockroaches I want to amend the future law. Madam Deputy Prime Minister, be so kind as to prohibit by law, horse-drawn transport is ... Well, shit on the roads. And then you go so-so, do not touch anyone. And on your head ... manure. Fresh, and most importantly, a lot. Horse, she is big!
Whereupon forgive for now. Peace to your home and your bins. And I'm in the kitchen. The belly is stuffing than God, in the sense of my Cockroach, sent, and side by side with my wife ... Something began to get cold. And gas prices for the population refused to lower the Cabinet of Ministers.