39 US President Jimmy Carter (presidency: 1977-1981) shared a sensation with the media. According to him, he personally asked the Russian president what information regarding the fight against international terrorism is important for Moscow today. According to Carter, in the Kremlin he was told that they would not have refused to receive information about the targets - the locations of the militants of the so-called "Islamic State" in Syria. And, if you believe the former owner of the White House, such data in the form of maps with special notes for Moscow were provided. This is reported by the American newspaper.
The Washington Free Beacon
.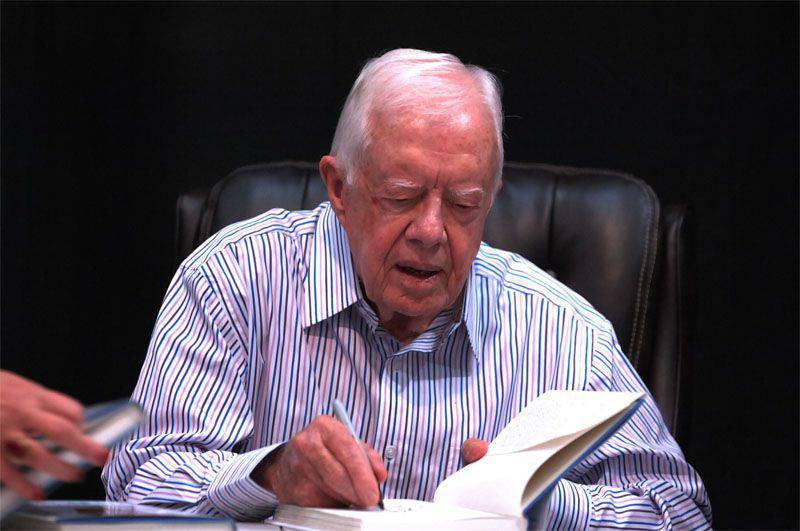 Last weekend, Jimmy Carter was on a visit to Georgia, where he said that he was "quite well acquainted" with Vladimir Putin, Putin "treats (to Carter) well."
Carter:
I sent (to the Kremlin) a message on Thursday and asked him (Putin) if he would like to receive a copy of our map so that he could bomb the position of terrorists in Syria. Then, through the Russian Embassy, ​​they told me that they were interested in receiving such a card.
Further, Carter stated, not without irony:
Thus, in the future, if Russia suddenly bombed the wrong places, you will know that this is not Putin's fault, but my fault.
With this, Carter is on the air
NBC News
He added that he has enough military sources who know a lot about the positions of the militants in Syria.
At the Pentagon, the transfer of secret maps to Moscow by former President Carter did not comment, saying that journalists should contact the Carter Center to answer this question, the head of which is the former US president.
Recall that Jimmy Carter expressed support for the decision of Russia to help the Syrian army by striking militants from the air. In addition, the former US president said earlier that he understood Russia's concern about the coup d'état in Kiev, after which NATO may well move on to Russia's borders. Carter noted that in those conditions that developed in Ukraine, the exit of the Crimea from its composition was inevitable.