Forgive my emotion, but I am always outraged when people do not use their main achievement in the evolutionary race - the brain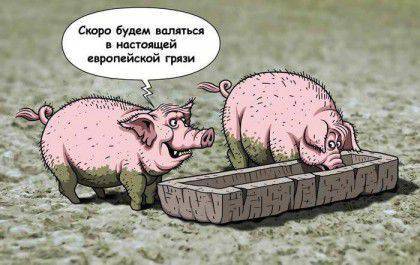 How do the average supporters of European integration feel inside? To start a conversation on this topic, we will give a scientific definition of frustration.
Frustration (from the Latin. Frustratio - deception, vain expectation) - a negative mental state, due to the inability to meet certain needs. This condition is manifested in feelings of frustration, anxiety, irritability and despair.
On the basis of a large array of field observations, I would clarify that frustration often arises not even from unmet needs, but from unrealized expectations.
I constantly see it on the example of my little son (he is one and a half years old). Here he goes quite satisfied, satisfied, in comfort. And in a second he sees something that he cannot / cannot reach / is dangerous. And it sharply becomes "necessary" for him, and since it is unattainable, it makes him deeply (but, fortunately, for a short while) unhappy. Woe-woe. Classic frustration. But the child can be distracted and switched, to give him another positive experience that will change his mood.
It took him the other day to carry a suitcase. The suitcase is big, bigger than a child, also heavy (there are some things inside). But we have to. The child screamed, dragged, puffed, fell, the suitcase fell on him, "bo-bo", was upset, wept, but continued to drag. Until dad turned his attention to the designer.
With adults, things are much worse. Ukrainians have lived here for decades, they have been fine - the climate is temperate, the land is generous, the tariffs are low. And then they were told that "they are Europeans," and that they really need the European Union. 95% Ukrainians have never been there and never will be, but it is very necessary. What for? Why? No matter. It is necessary! Because so the TV said.
And also these, which, "European values", ord. What kind of crap it is, no one knows, but I also really want to. To "like people."
And they were inspired by the need to "get out the look of Muscovites." And do not care that 80% relatives in Russia, but "we will never be brothers." Because the family has its black sheep, and most of them have referred to Ukraine since the times of Ivan the Terrible. Joke. Just "the TV said so." And thinking without a TV is too difficult and unusual for many.
So they fouled euromaidan. Because "in Europe, the salaries are so high" and "they beat the children". And here "the TV said so." When the neo-Nazi provocateurs on Maidan were slightly beaten, the TV said indignant, and they were indignant, thousands of inspired zombies came out. When they burned Odessa residents, the TV said to rejoice, and they rejoiced, ate cakes with "Russian babies." Eurozombi, you can not argue with the facts.
Gidnyuki type peremogli. But the expectations did not materialize! Adults, thinking people told them that they could not justify themselves, because they were unreal, but who, thinking, listens to them ?! It is necessary to ride!
And not just none of the expectations came true, but it became much worse. Crimea left, Donbass left, euro Maidan received thousands of coffins of their punishers who went to suppress the "Vatu" to the east, the economy fell twice, prices increased three times, the chaos of officials and corruption only increased, and they were also joined by armed "patriots" on streets that regularly rob someone and kill. In general, it is possible to enumerate for a long time, but in fact: the fact that for the rest is just a deterioration in the standard of living, then for the "maydanutye" there is a complete collapse, because, apart from objective factors, their expectations are also affected by the above-mentioned expectations, which increasingly frustrate their psyche.
But at the same time, in spite of the conductor, Putin and common sense, you need to pretend that everything is fine and it is getting better every day. You see, they even cannot respond naturally to the problems, because it will be a "surprise". Therefore, we are forced to convince others and, even worse, ourselves, that everything goes "according to plan." What causes the inevitable schizophrenization of the consciousness of Euro-Ukrainians.
They are children, because children are able to change, are able to learn and do not possess going off-scale. They are worse than children, onizhedebily. Forgive my emotionality, but I am always outraged when people do not use their main achievement in the evolutionary race - the brain.
And here is such a Euro-Ukrainian sitting in a cold apartment (because the heating has not yet been turned on), without work, without money, without rights and unwanted, and engaged in self-suggestion that he is "a representative of the oldest nation in the world that protects Europe from the Moscow invasion." And how, consoling?