Major General Igor Konashenkov, spokesman for the Russian Defense Ministry, reports that
aviation
The Russian Aerospace Forces continued to strike at militant positions and their infrastructure in Syrian territory. Aircraft of the Russian Air Force made 55 sorties, striking at 60 targets of ISIS and Front al-Nusra.
According to General Konashenkov, 19 command centers of terrorist groups, a plant for the production of ammunition and explosives, 9 fortified areas, other objects were destroyed in Syria during the day.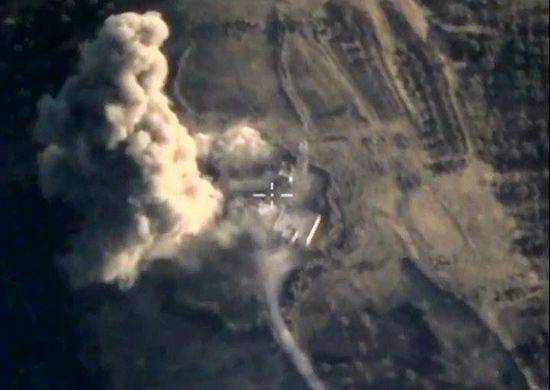 One of the command posts, as well as the communications center of terrorists, were destroyed in the Dair Al-Zor region. From here was the coordination of five gangs at once. According to the official representative of the Ministry of Defense of the Russian Federation, the command post and communications center were located in the post office captured by terrorists earlier.
Blow with Su-34 was completely destroyed the factory for the production of unguided projectiles near the village of Hatla.
Blows were also delivered by Su-24M bombers.
Igor Konashenkov:
In the area of ​​Kastun, Idlib province, a large base of gangs with a command post and a disguised ammunition depot has been destroyed. As a result of the use of a high-explosive aerial bomb and ammunition detonation by the Su-24 aircraft, the object was completely destroyed.
With the help of Su-25CM attack aircraft, attacks were made on the accumulation of terrorist armored vehicles in the area of ​​Ziyar settlement, located in the province of Idlib.
Konashenkov quotes
RIA News
:
After the additional exploration carried out with the use of unmanned aerial vehicles, the command of the Russian aviation group decided to defeat this target.
Video from the Ministry of Defense "Increasing the intensity of the flights of aircraft in the sky of Syria":