The next meeting of representatives of the Ministry of Defense of the Russian Federation and officials of the Cuban government was held in Moscow. This time, Riccardo Cabrisas, Deputy Head of the Cabinet of Ministers of the Island of Freedom, arrived in Moscow. He met with Russian Defense Minister Sergei Shoigu. According to the press service of the Russian Ministry of Defense, during the conversation with the Cuban delegation, cooperation in the military-technical sphere was discussed.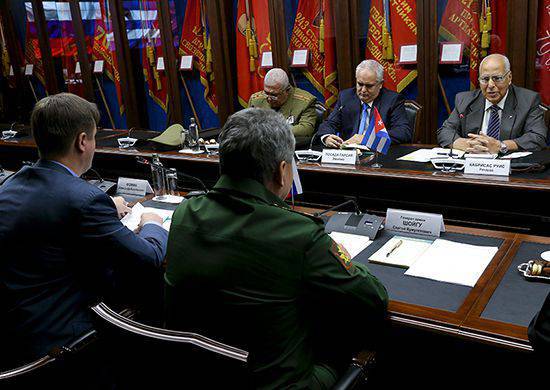 Ministry of Defense of Russia
quotes Sergei Shoigu:
A strong impetus to strengthening bilateral ties was given by the meetings of Russian President Vladimir Putin and Cuban State Council Chairman Raul Castro in July 2014 in Havana and in September 2015 in New York within the 70 jubilee UN General Assembly. The implementation of the Russian-Cuban agreements reached is our priority. My visit to Havana in February of this year confirmed the general desire to expand large-scale defense partnerships.
Shoigu announced the possibility of increasing cooperation in the naval sphere.
Minister of Defense of the Russian Federation:
A separate article is our military-technical cooperation, which is also developing quite actively and is dynamic and positive. We will talk about this during the work of the commission on military-technical cooperation.
Riccardo Cabrisas noted that the doors of Russian universities, including military medical ones, are open for Cuban youth, and added that Cuban specialists are working with colleagues from Russia in terms of creating vaccines. Cabrisas stressed that cooperation with the Russian Federation in the line of defense departments occupies a special position in Russian-Cuban relations.
After a recent visit to Moscow of representatives of the Cuban Defense Ministry in the Western media, materials appeared in which it was reported that the Cuban military were allegedly sent to Syria. At the Cuban embassy in Moscow, these statements were called nonsense.