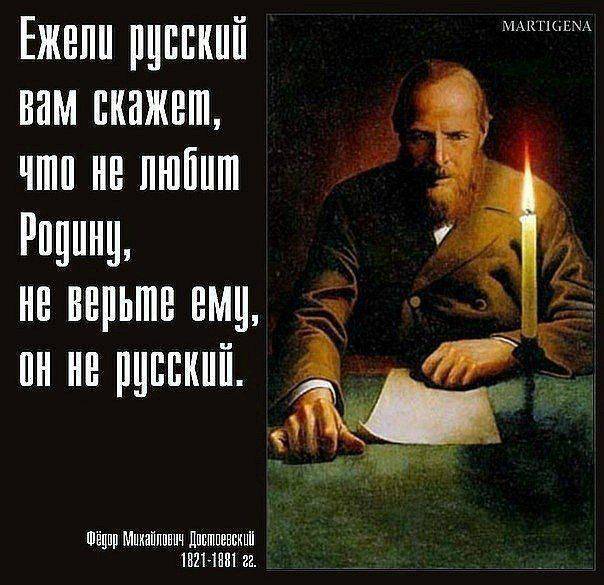 Pseudo-patriotism, its forms and goals
In connection with the events of the last year in the country, not only did patriotic sentiments grow, but the negative towards Russophobia and Westerners of various kinds intensified. Now, arguments about how everything is good in the West and how bad everything is in Russia do not find support from almost anyone. But the information war against Russia continues, and the Russophobes simply changed tactics. Pseudo-patriotism comes to replace frank Russophobia.
Pseudo-patriotism differs from true patriotism in that it carries a hidden ideological charge that can, with a successful impact, turn a patriot into a Russophobe. How to do it? There are many scenarios and methods for processing the brain. Since patriots, like all people, are different, you can find your own approach to each of them.
How to make a hater of Russia from a patriot of Russia? Only gradually, changing his worldview piece by piece. One cannot immediately instill hatred towards Russia, but one can instill hatred first towards an individual - for example, towards the President or the Patriarch. For starters, this will be enough. Or to some period of his
stories
. Next - a matter of technology.
Pseudo-patriotism: types and methods of influencing consciousness.
Pseudo-patriotic currents had been enough before, and they successfully processed people's brains, but in the last year they became especially active, having received financial infusions from the West. Here are the main ones:
Pseudopatriotism in the form of dolboslavia.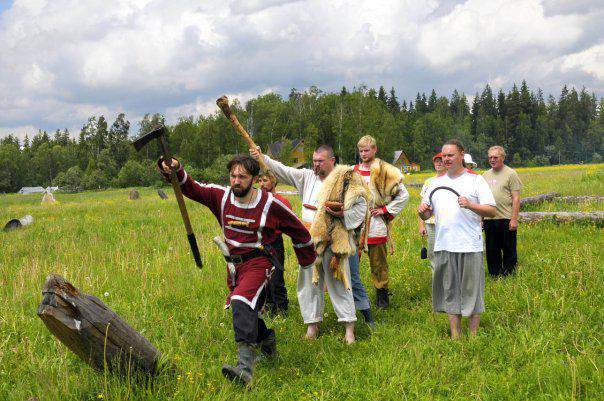 Who are dolboslavy, they are pagans, they are neo-pagans, they are also members of worshipers - it has been known for a long time. These clowns cause nothing but laughter in an adult sane person. But, despite this, dolboslavy continue to successfully process the brains of patriotic youth, turning those who managed to process, into an exact copy of the jumping Great Ukrov. The main goal of the dolboslavov is to incite hostility and hatred towards Orthodoxy and the Russian Orthodox Church, as one of the state-forming institutions.
At the same time, Dolboslags never openly oppose Islam or Judaism. It would seem that these religions should cause them no less hatred, what is the matter? The answer is simple. First of all, sorry for being honest, stsyklivo. The Jews for such attacks will immediately be planted, and for a long time, and Muslims can figure out without a court. It's much safer to bark at peaceful and kind Orthodox Christians - you immediately feel big, formidable, powerful. Well, like that Pug, which barked at the imperturbable, not noticing her elephant.
And secondly, the goal of the dolboslavov is to incite enmity between the Russians, among whom are Muslims and Jews, and the cat wept. To set some Russians on others is the true goal of the Dolboslav movements.
But not only. Not only internet hamsters are cultivated in Dolboslav sects, but also cannon fodder that can be used in any cataclysms and upheavals. To do this, dolbo-bosoms instill the complexes of "small people", total hatred for everyone around them and, first of all, for their people. The Russian people, in the opinion of the labor dolbosla, is a stupid redneck, whose religion is not even their own. Even the kings of others. Even writing and that imposed. And only he and a handful of his friends, great and wise, know the true history of the Slavs, a billion years ago who flew in from Sirius and won the orcs of Atlantis in alliance with the elves!
You find it funny? And I do not really. Because, having communicated with dolboslavy, I recognize in them as cannon fodder from the Ukrainian Maidan, and uporotyh Wahhabis, ready to kill anyone will be shown and blow themselves up where they are ordered. This is a classic cannon fodder. Therefore, when dolboslav says to you that "but we do not drink and do sports", remember that Wahhabis do not drink either and play sports.
The good news is that the percentage of the real cannon fodder among dolboslavov is extremely small. Basically, these are computer warriors who, under the jar of Yagi, are urging everyone to go right now to blow up the Kremlin and kill Putin. But the bad thing is that they spread their ideas like a virus, and a new hamster picks them up.
Pseudo-patriotism in the form of monarchism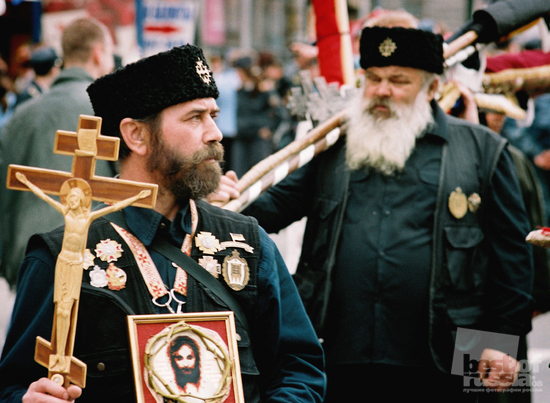 If a person simply believes that "with the king was better" - there is nothing wrong with that. Opinion, though controversial, but has the right to exist. If a person calls himself a "monarchist" and is worn with his "monarchism" aki with a written sack - in front of you is a classic washed pseudo-patriot. Why? Because the ideas that such figures carry are frankly directed against Russia and very convenient for the West.
To make sure of this, it is enough to delve into the history of the issue. The fashion for "monarchism" appeared in 80, among the then dissidents and liberasts who openly hated the Russian people. Since this is pseudo-patriotism, something like a Russian kagbe was needed as an idol, but so that with this Russian kagbe it was possible to stir up hatred between Russians. At that time, the tsarist regime was ideally suited as such a fetish, which in the USSR was often sprinkled with mud, sometimes truly unfair. And at the same time the White Guards, which causes a rupture of the brain in anyone who knows the story. After all, the overwhelming majority of white generals loved the tsar even less than the Bolsheviks, and the Russian people in general did not particularly like them. For example, the same Denikin, under whose command the Chechens and Ignushi recklessly cut Russians and Ukrainians. Or Baron Ungern is an uprooted fascist, who preached Pan-Mongolism and openly called the Slavs a lower race. Or Wrangel, who openly promised to sell Russia for the loot just to Europe in total slavery. In general, the phrase "foreigners will help us" appeared precisely among the White Guards. And Admiral, who is so adored by today's "monarchists", for a minute, sawed out Siberians by whole villages, that is, was engaged in outright genocide of Russians.
What kind of patriotism is this, if Russian killers are proclaimed heroes? And this is the classic pseudo-patriotism - one to one the same can be observed in ukrov with their worship of Bandera. That "hera" is also in Ukrainian blood to the very neck, which does not prevent Ukrainian pseudo-patriots from worshiping it. Like our "monarchists", nothing prevents us from worshiping Krasnov and Vlasov. And there and to frank love to Hitler one step.
And how in one ideology the worship of the royal dynasty of the Romanovs is combined with these figures - ask the participants of the Swamp 2012 this. There, in one crowd, imperial flags and rainbow flags of homosexuals were quietly flying. This is called pseudo-patriotism.
If we remember the real monarchists of those times, they did not fight against the Bolsheviks. The Black Hundreds and other people loyal to the Tsar bitterly admitted that the Bolsheviks, though evil, were the least evil for Russia, so they would have to be supported so that it would not be even worse.
The goal of "monarchism" is instilling hatred to a specific period in the history of our country, namely, from 1917 to 1991. This is a very important period, only the victory over fascism and Gagarin are worth something. To change pride in the achievements of their fathers to the hatred of these achievements, this form of pseudo-patriotism was created. What is interesting is that these "patriots" are of little interest to the periods of the tsarist times themselves; they are not able to list, in order, the Russian tsars, they don't know that the imperial flag they loved so much was the state's 25 years old, and besides hate for the "Bolsheviks" (which , 25 does not exist for years), they are not interested in anything. Doesn't it remind anyone? For example, some residents of a neighboring country, all of whose thoughts are occupied with hatred for someone else's president?
Pseudo-patriotism in the form of a communist ideology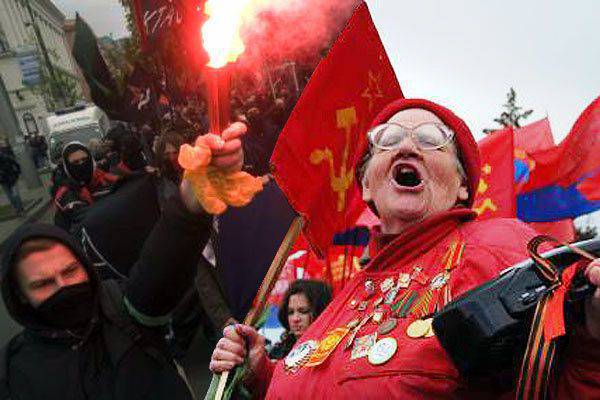 Here, perhaps, it is worth recalling, first of all, that the communists in Russia do not exist for a very long time. The authorities haven't had 1991 since August (although they started losing real power much earlier), and the 1993 was finally destroyed by the communist movement in Russia in October. Today's unsuccessful parodies of the CPSU are nothing more than speculation on the nostalgia of the older generation in the USSR and one of the breeding grounds for pseudo-patriotism.
Today's "communists" are sponsored from capitalist sources, from Russian entrepreneurs to the West. In terms of information processing of potential adherents, these "communists" are no different from "monarchists", especially since they feed on one hand. The main ideas are capitalists in power, that's why everything is bad, and there is only one way to fix it - PUTINGETEVSENAMAYDAN!
Pseudo-patriotism in the form of Nazism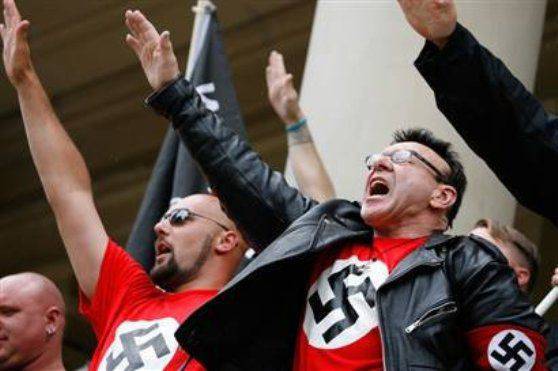 In practice, even the nineties skinheads didn't do anything more serious than beating Azeris on the market. On the other hand, the brains of youth were actively polluted by ideas that were in no way compatible with Russian patriotism. In the 2000s, these figures, constantly shouting about their hatred of all non-Russians, switched to a "war" with representatives of various subcultures, most of whom are quite Russian in their own right: rappers, emo, and other dull and harmless individuals. The more harmless, the better. The top of heroism is to attack ten yard-makers on the Tajik janitor, which quite naturally reinforced the mutual hatred of guest workers and the local population. After such an incident, the Tajik began to hate the Russians and did not consider it bad to wring the phone away from the Russian schoolchild, which in turn added the hatred of the local population to all the "chocks" and further around. As required.
Today, Nazi activism in real life has almost disappeared, but they are actively involved in propaganda, inciting hatred primarily among the indigenous peoples of Russia, calling for secession of regions, genocide and anarchy. And such Nazis are not only Russian nationality. There are Nazis among Caucasians, Tatars, Bashkirs and other indigenous peoples of Russia. All receive money from one source and work according to the same scheme, leading to a split of the country from within.
Ask a Nazi calling for, for example, separating the Caucasus in order to get rid of Caucasians: why, when Azerbaijan was separated, the Azeris in Russian cities became many times larger, but so far they were one country - nobody saw them? After that, you can sit back and enjoy the flow of hatred of the leader, who broke off all the propaganda in this community.
Pseudo-patriotism in new wrappers
In view of recent events, new pseudo-patriotic movements have appeared, the aim of which is also to make patriots enemies of Russia and, ideally, meat for Maidans. Here are the main ones:
"Putinislilshchiki"
. These are actively watching the war in Novorossia, for which they don't want to go there and take part in person. Declare that the militia prevents Putin personally from winning, if not for Putin - they would have been in Kiev a long time ago. Different options: does not send troops, does not support
weapons
, interferes with the real heroes, promoting "their", directly prohibits the offensive, etc. As in all pseudo-patriots, in "putterslinschiki" the features of Great Ukrov are easily visible: it turns out that it is Putin who is responsible for everything that happens in the neighboring country.
"Sancciopanikery"
. These are close to liberasts, since they accuse Putin of all the sanctions imposed by the West, because of which we all now just die of hunger. It was precisely these figures who, with all their might, threw in ducks that they would block all Sberbank cards tomorrow — and yet achieved panic at ATMs and an outflow of funds, which hit the Russian economy as well as any sanction. It was they who bred in December the panic that tomorrow everything would rise in price by 100500, provoking a stir in the stores. Uncle Liao is delighted.
"Anti-refugees"
. These are making a panic about the fact that Putin (again, ONE, CAM, PERSONALLY) let in the country billions of refugees from Ukraine, who will take all our jobs and eat us all. Funny But on some acts and such.
Common pseudo-patriotism promises
"Everything is fine in Russia, but ..."
This is followed by a systematic incitement of hatred towards hotel state structures or politically significant people. First of all to Putin. To this end, it is strongly suggested that Putin ONE, PERSONALLY is responsible for everything that happens in Russia and on the international arena — from currency rate changes to "I have someone shit at the entrance"
"In Russia, everything is bad, because ..."
Reverse message, but with the same goals. The fact that "everything is bad" is blamed on someone (most often Putin, less often the Orthodox Church, the FSB, the police, or simply the mythical "Jews").
"We cannot change anything because ..."
Then again, the options: everything is controlled by the West, all captured zhidy, chocks or even some terrible enemies, and we are all sheep. This promise can be traced in almost all pseudo-patriots: we are nobody and nothing, others decide everything for us. An inferiority complex is being instilled, which entails aggression. What is required.
"Around enemies"
. Power is enemies, enemies in the West, enemies in Ukraine, China is the enemy, officials are the enemies, the police are the enemies, in general, all the enemies, just grab the machine gun right now and start watering everything around you in a queue - you will not be mistaken. The meaning of the message is more than clear.
How to distinguish pseudo-patriotism from normal patriotism?
Normal patriots always call for creation, pseudo-patriots - for destruction. The one who carries the negative and tries to call for some destructive "with good goals" is definitely not a patriot.
In general, in order not to hit one of the pseudo-patriotic currents, it's best to really look at things and really assess your capabilities. Well, if you don't overthrow the government, neither yours nor others, be you at least three times a patriot. You will not achieve the dismissal of a major official, you will not take billions from the oligarch. Unless they take a jump on the areas in the "meat", so that some big uncles take the loot from other big uncles. Ukraine is a vivid example. Strong there are simple "patriots" improved their lives?
Do what you can. Plant a tree, build a house, give birth to a son. Do you want to fight and seek justice? Fight and achieve next to you. Do not let the local officials steal, make your utilities work normally, kick drunken pals out of your doorway, organize a clean-up day to clean your yard. This is the real power of ordinary people. If hot water is constantly turned off in the house, and everyone is sitting in their apartments and chambers under their breath - they will turn it off. And if a minute after each shutdown, the whole house shouting "WHAT THE FUCKING PEACE ?!" will go out and go to the office of the relevant utilities in an organized manner - believe me, very quickly the water supply will start working without interruption. And so in everything.
There is an expression - "sweep your side of the street." This means that I don't see if the neighbor has swept up his side. Let him live in the mud if he wants. Even if the garbage from his side blows on my wind. Let, in the end, after all, live alone around the mud and no one sweeps. But I sweep in front of my house. And when I do this, my conscience will be calm. And only then can I blame my neighbor for not sweeping his side. If at least 10% of us "sweep our side of the street" - life will be noticeably better. Remember this.