In the Primorsky Territory, a landing exercise was held, in which more than one thousand soldiers were involved, about 10-ti ships, as well as airplanes and helicopters, reports
RIA News
message of the representative of the Supreme Military District Roman Martov.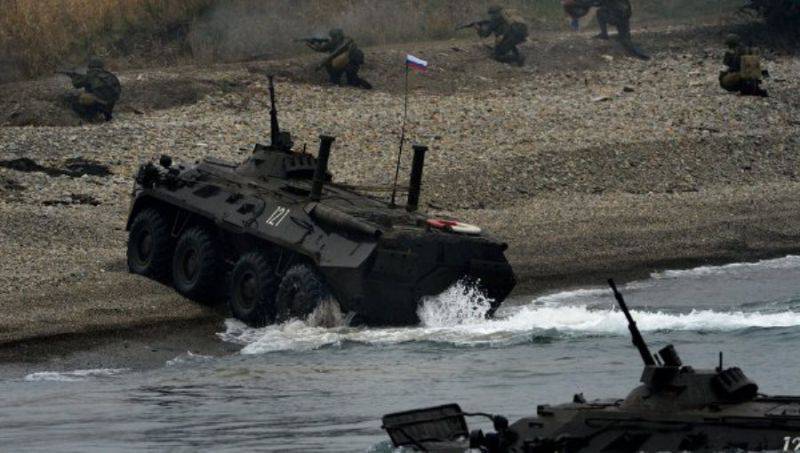 "According to the design of the exercises, the coast was captured by conditional terrorists. For the elimination of the "enemy", Pacific Fleet maritime units advanced on large landing ships. Participated
tank
the company and the Uragan multiple launch rocket system battery from the Fifth Combined Arms Army, "said Martov.
At the first stage, the marines used the latest reconnaissance and firing complexes, which are highly accurate
weapons
short range. "All these means allow in a real battle to destroy any targets in the area of ​​the subunit. Also, new types of weapons and unmanned aerial vehicles were used, "the officer said.
"After carrying out the reconnaissance phase on the coastline with the help of landing boats and a Mi-8 helicopter, militant engineering units of the marine corps landed. At the same time, the "enemy" was attacked by attack aircraft Su-25 army
aviation
. In the final part of the exercise, the main forces of the naval landing force delivered large landing ships to the unequipped coast, "a representative of the Military Military District said.
"Black Berets fighting vehicles" immediately entered the battle and, with the help of a tank company, finally conquered the bridgeheads, completing the defeat of the "enemy". Brigade tactical exercises became a valid test of the marine units in the summer training period, "he added.
According to him, "in total, more than one thousand servicemen took part in the maneuvers, more than 80 units of combat and special equipment, about 10 combat ships and support vessels, aircraft and helicopters of military transport, army and assault aviation were involved."