The ex-producer of the 112 Ukraine TV channel Viktor Zubritsky said that from the administration of the Ukrainian president in the media sent a kind of directive in which it is reported that on the TV air it is necessary to avoid personnel on which Peter Poroshenko and Vladimir Putin shake hands. A statement regarding this "problem" is published on the website.
«112»
TV channel of Ukraine. The information is given with reference to the personal page of Zubritsky on Facebook.
Zubritsky:
Poroshenko Putin shook hands, but wished that the Ukrainians did not know about it. And strangely enough, all the TV channels of Ukraine did NOT notice this event. TV channel "112 Ukraine", showing all
news
objectively, preparing for the broadcast. And then began a squall of calls from the presidential administration and "relevant services" about the inadmissibility of showing a handshake on the air.
Yes, you heard right. They did not call Poroshenko, so that he would not put his hand to Putin, they called the channel so that the channel would not show it. A channel can not show. These are public actions of the president. Only Poroshenko placed all responsibility for his public actions not on himself, but oddly enough - on the 112 Ukraine TV channel.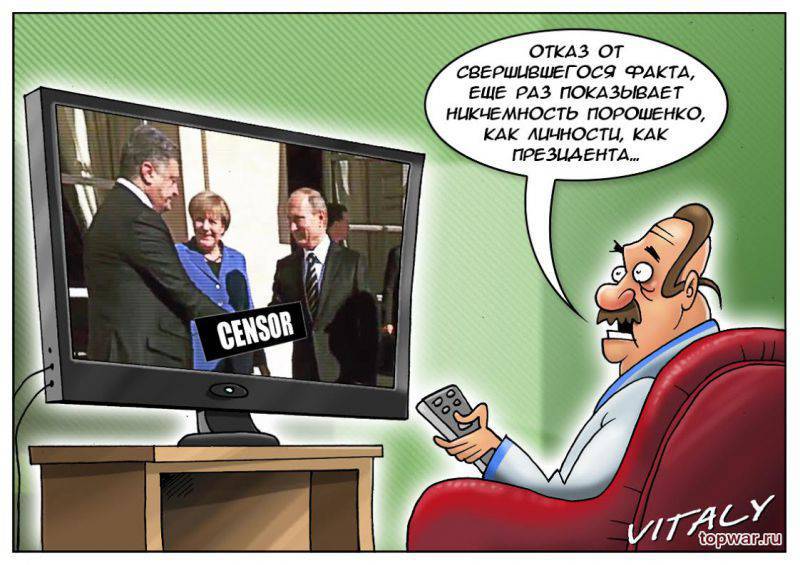 Further, Zubritsky writes that there is no freedom of speech in Ukraine, there is no freedom of the media, adding that since October 16, searches have been sanctioned on 112 on the TV channel.
Zubritsky:
Poroshenko used, with the help of his henchmen (...), the usual arsenal of a tyrant: death threats, threats of initiation / closure of criminal cases, coercion to sell a television channel, threats of deprivation of a digital license, and after the start of the deprivation procedure.
It is strange that some Ukrainian media began to notice the problems that have arisen with the freedom of speech in Ukraine only now ...