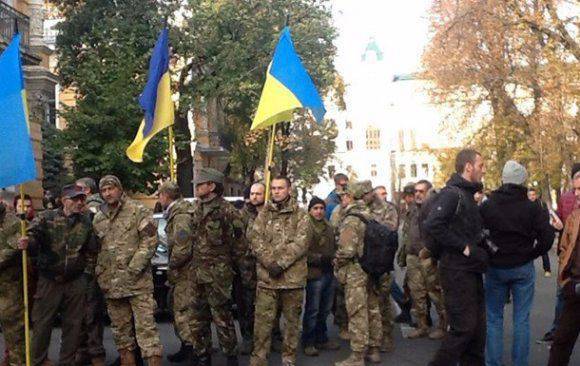 As steadfastly and inexorably, as they stood under Ilovaisk and Debaltseve, Donetsk and Lugansk, Izvarino and many other settlements, they now stand under the walls of the presidential administration. Demonstrating your desire to get the promise. Even, I would say, demanding.
After all, more than a year ago they came, obeying the call (here, slightly unsure, true) of heart, to help the fraternal people of Ukraine preserve the integrity of the state and fight the aggression of Russia and Putin personally.
True, Russia never came to war. And Putin did not come either.
And the mercenaries, or, if you will, the volunteers, remained.
And they were clearly left with nothing. Broken trough, it is clear, Ukraine. Because how to stop fighting Ukraine at least with difficulty, but forced. And, accordingly, the hired class of warriors was clearly not in the business. Indeed, why? Conscripts, soldiers can hang out in the trenches for smaller amounts. And to save oh, as it should, here winter is close, every hryvnia counts.
In short, there is no victory. As well as the preferences associated with the victory.
But there is a political hangover. And the sheer unwillingness to return to the places where our heroes came from. As the 112 channel broadcast in its report, the majority of mercenaries picketing the presidential administration of Ukraine from Russia, Belarus and Moldova.
Fighters for a united Ukraine do not want to return home. I don't know how this is the case in Moldova, but Russian and Belarusian special services don't get paid. And, according to available data, very much in the course of who, when and where was noted in the Armed Forces of Ukraine and terbats. Especially in terbats. And, if we can get it from 5 to 10 for years with special effects, then here in Lukashenko's father in this regard is full of sadness and longing. There, with the number 10, everything is just beginning. And the end is such that on the place of any Belarusian unfortunate warrior I would not have thought about this for more than three seconds on this topic. Because there and 25, and life, and the death penalty. And all this, of course, with the confiscation of everything. This is like a normal Batko.
So the reluctance to return home among these gentlemen is quite understandable to themselves. Even 5 years in a Russian prison as it were necessary to live. And as practice has shown, some Chechen gentlemen, having won back, did not rewind half of the term, having gotten to the right place. That heart will refuse a disease, then a liver ... Well, I just don't want to talk about Belarus. It's easier, probably, to kill oneself out of harm, the result will be the same, only none of their KGB stars will work on the mercenary.
But Poroshenko's position is clear. Moor, as they say, did his job, you can leave the Moor. And after all these Moors are leaving, they are definitely leaving. Or uhaydakayut. Who like more.
Actually, a mercenary - he is a mercenary in Africa. And loyal to the employer, while he regularly salary goes. And if it does not, then it is necessary to look for another employer. And Poroshenko has enemies in Ukraine so far above the roof. And where is the guarantee that obtaining citizenship Square, this same mercenary will not go to offer their services Kolomoisky? Or Akhmetov. There is no guarantee. And can not be.
Here Peter Alekseich and in no hurry to fulfill their promises. Well, for him this is a normal thing, we note. But for our plunging heroes - it's rubbish. Not to plunder, nor to rummage around the houses in the Donbas, everything that you can have already taken out. And do not give citizenship. And there is no money either. There is no war ...
No, it turns out, Ukraine has new citizens. They have nowhere to go, and new ones ... Yes, even those who have passed the ATO. So the rally is not a rally, you still get ... a formal reply from the presidential administration. Best case scenario.
They say that Ukrainian warriors also came to support their colleagues. But this is unlikely to change anything. Citizenship of Ukraine does not shine for mercenaries. And most likely, the not very long road to
historical
Homeland. Which will meet her prodigal sons, abandoned her, in full.