This
история
started in 2006 year. The guys that will be discussed have become very dear to me. And although now they are adults, they do not let their past into the present day. At school, classmates of this, too, was not known. Therefore, you will see that there are no names in the text.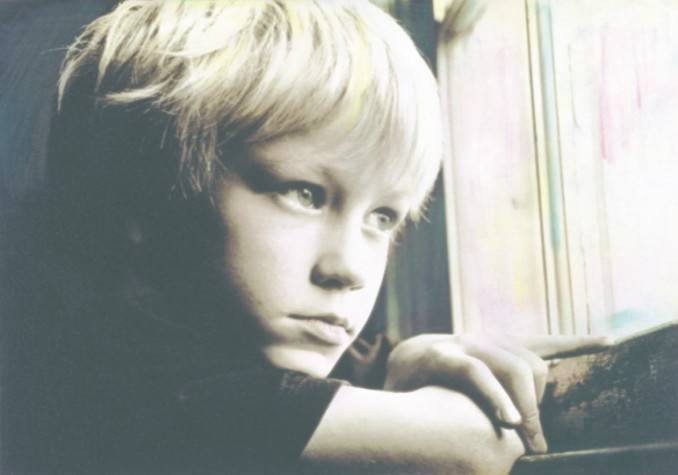 So, on that May day, I was standing at a bus stop in one of the villages of the Dobrovsky district, when a boy approached me and asked how to get to the district center. I began to explain and suddenly I saw that the boy's eyes were filled with tears. He held them back as best he could, but disobedient drops rolled down their cheeks like little streams.
- Did you have something wrong? - I asked.
- Parents in the hospital.
I felt sorry for the boy, I wanted to help him with something. And there was already a bus on the road. My young interlocutor also saw him.
- You are in a hurry, yes?
And I realized that I could not leave now. After all, this boy is very, very bad. And, maybe, he appealed to me not only so that I would show him the way to the regional center.
So we met with Sasha. I told him about myself, about what I had just done a report in their area. He was delighted, invited me to visit - the villagers look at strangers differently. This is bad or good, but they trust them more. I had a case when a photographer and I were driving a car and asked a passerby boy how to get to the school. He, on his own proposal, got into our car and began to show the way. But back to Sasha.
- Sister will be very happy, you will see! - he spoke to me, inviting to visit. - By the way, her name is also Sasha. But everyone calls her Shura. We live alone now.
The house of Sasha and Shura stands almost on the outskirts of the village. It is small, but very cozy, clean. We sat in the kitchen and talked. That is, the guys said, and I listened. And often applied a hand to eyes, pretending that I was correcting my bang ...
In general, there was something very unreal in that these two children told me, a completely unfamiliar woman, their horrible story. But, probably, they did it from despair and loneliness.
... There were five of them - mom, dad, Shura (then she just turned 16), Sasha (he is five years younger than his sister) and one-year-old Misha. Before they lived in the city of Argun, in the Chechen Republic. The family was friendly - the father, Nikolai Vladimirovich, worked at the school as a mathematics teacher. Mom, Alevtina Sergeevna, was engaged in home and children. Sasha and Shura studied well, mastered playing the piano, which their grandfather gave them. Little Misha learned to walk and babbled funny.
In 2005, Nikolai Vladimirovich was dismissed from school. There was nothing to live for. Trying to feed himself, he worked as a loader, a driver. But the city refused to hire Russians. Then the family decided to move. They could not sell the apartment, they took only the most necessary of things. A piano was presented to neighbors.
The guys remember the road badly. Talking about this, they interrupted each other, remembering that one detail, then another. Therefore, I cannot give an exact description of the events. But that understood.
At first they traveled for a long time on foot, occasionally getting into the passing cars. My father asked for help only from Russians, he told the children and his wife that we should be wary of the Chechens. So a few weeks passed. The border is left behind. And the parents have already told the children about how they will live in Russia. Sasha and Shura will go to school, Misha will go to kindergarten. Alevtina Sergeevna wanted, like her husband, to work at school, to teach children the Russian language.
But Misha fell ill. Began to cough, fever has risen. Need a doctor's help. Fortunately (as they then thought), there was a cafe next to the road. The parents went there and asked the waiter for help, and Sasha and Shura were left outside. A few minutes later Nikolai Vladimirovich came out.
"You will stay here, and I will take Mom and Misha to the hospital," he reassured the children. "I'll be back in the evening," and added very seriously and quietly, "just in case, wait in the forest nearby." People show up only in case of emergency. To the cafe often do not fit, only once a day. The food you have while hold out.
... They did not return in the evening or in the morning. And the next day - too. The guys waited three weeks. The food supply ran out, they ate what they had to - mostly some berries or what they found in the urns near the cafe. We slept right on the ground. They took turns walking to the cafe, looked into the windows. Once, Shura saw a chauffeur driving a mom, dad and Misha to the hospital. She approached him and asked where her dad was. He laughed and pointed to her door.
Shura returned to Sasha and told him everything. On the same day, the guys decided to go further. But they did not know where and how. Only that it is necessary to be saved.
I listened to them and thought: what did these two little ones go through? How did they suffer, waiting for the return of his father? Three weeks into the unknown, when hope and horrible suspicions replaced each other. And how are they alive? It is unlikely that they never noticed in this cafe. But they did not kill me.
Sasha and Shura did not want to recall the rest of the journey. I realized that they traveled first on some traveling, but watched the Russians be driving. And then stumbled upon a Russian patrol. And they, having learned all the terrible history, transported the children to the Tambov orphanage.
"There is a very good aunt working as a director," Sasha told me. - She listened to us, allowed to stay. A few weeks later a man and a woman came to us. And they said that they want to take me and my sister into my family.
"Man and Woman" are called Ignat Vasilievich and Galina Vasilievna. A few years ago, their only son, twenty-year-old Arkady, died. And they realized that they could not stay any longer in the city where such a misfortune happened to them. Ignat Vasilievich offered to move to the Lipetsk region, to his relatives. Wife supported him.
Before leaving, they went to the orphanage - they wanted to say goodbye to the director of their close friend. She told the spouses about Sasha and Shura, not knowing that a new family would be born in front of her eyes. Or maybe that is why she told me that she wanted to somehow help the children. Indeed, despite all the experiences, they miraculously remained normal people.
The brother and sister went immediately to the new family, they did not want to remain in the orphanage. But they got used to the second parents with difficulty. It was especially hard for Sasha — he cried every night, burying his face in a pillow. Often refused to eat, then Galina Vasilievna persuaded him to eat "at least a spoon."
Shura closed in the room in the morning and rarely left it. The guys refused to talk about entering a new school. And when Ignat Vasilievich asked Sasha if he wanted to study at a local school, the boy replied:
- I do not want to study. I want to be with my real mom.
So the spring passed. New parents often talked with each other for a long time, trying to figure out how to live. Ignat Vasilievich was afraid that the children would not be able to get used to the new family. And Galina Vasilyevna believed. "Everything takes time," she repeated.
And in May, a misfortune happened: they went to Lipetsk and got into a car accident. Emergency doctors took the injured to the hospital. Neighbors reported the accident to the children.
Having received terrible news, the guys seemed to wake up from a dream. They realized that now they can lose what they have found with such difficulty - love, care and warmly loving people.
- Sasha, they are our parents! You see, ours! - cried Shura.
Sasha, too, roared, but slowly, trying to be a man. So, in tears, they spent a few days. And then they decided to act. Now the guys knew how to live on - they had dad and mom again. And while they were treated by doctors, it was necessary to take care of the house and garden.
Sashka turned out to be an excellent gardener: he not only cut all the weeds, but even planted flowers. Especially well he gets a "tomato-cucumber case" - as they say, to envy!
Shura hosts in the house, which already calls his. The guys didn't want to ask for help from the neighbors - they coped with such a disaster, can they not manage to manage the house?
They decided to study with a question - they chose a school for themselves. By the way, I wanted to go there Shurka on the day of our acquaintance.
... So that summer day our meeting ended. I returned home, but, to be honest, I didn't fully believe the guys. And therefore, at the beginning of the school year, as if by chance, went to the school, which they called me. She did not dare to speak with teachers about the new students: they would hardly have divulged the secret of the fate of her brother and sister. So I was hoping for a chance meeting. And indeed, we saw each other! Delighted with each other. We talked. The teachers then told me that they were new. Hinted: they say, kids with a difficult fate. But no more words, as it should be.
I came to school a few more times, the last about two years ago. I know that the elder sister Shura graduated from Lipetsk Technical University, she got married and brings up her little son. And Sasha is only in the third year of the same university. She lives with her sister - they are very friendly. To parents often come, and those to them too. From that old day, we never again talked about the past guys. They try to forget it. And they never watch programs devoted to hostilities in Chechnya.