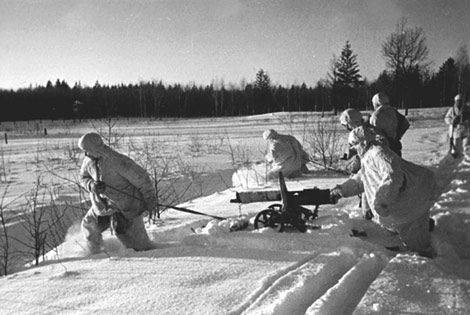 This event occurred in the 1942 year on the Orthodox holidays of Savva, Barbara, Nicholas. I remember how our grandmother always said: "Well, today we were part of the farm." The memory of people who survived these events holds a lot about that tragic time. I will tell about one episode of those days.
The fact that the offensive of the Soviet troops will be held in the hamlets of Meshcheryakovsky and Tikhovsky was suggested by both Russians and Germans. Why? Because from Meshcheryakov to Varvarinsky's farm there is a lowland hollow, while from Meshcheryakov to the side of the stanitsa of Migulinskaya is a steeple. Of course, it is more convenient to advance on the dell. The Germans were preparing hard for the fight, every day they drove the local population to clear snow and dig trenches.
We were preparing for battle too. With the help of partisans from the Don Cossack detachment, information was obtained about the 17 coordinates of the enemy firing points, which were successfully eliminated. The partisan Katya Miroshnikova played a big role in extracting this information, which would be a great sin not to recall. She died a martyr's death at the hands of traitors.
But one more enemy firing point remained, which did not allow the Soviet troops to move further from Meshcheryakov in the direction of Mrykhovsky and Konovalovsky. From her fire killed a lot of our soldiers.
Locals, as they could, helped ours. In order to detect an enemy deadly weapon, a resident of the Mescheryakovsky farm, Konstantin Stepanovich Merkulov, suggested making a dummy from reeds, putting it in military uniform, strengthening it on sleds with a white dog harnessed in them and sending it to the enemy.
The machine gun was hung on the chest of the manufactured "warrior", and he heroically single-handedly "went" to the attack. The dog runs along the road past the cemetery, it is not visible in the snow. A soldier is firing and firing, but he still does not fall. So they spotted and suppressed this unfortunate firing point, which was located on Sos Mountain.
Nikolai Ivanovich Zasidkevich, who was a teenager at that time, whom the Germans were then also chasing to dig trenches, recalls: "We lived in the war for a cemetery at the turn. And I saw how they took four Fritz alive on Sosovaya Mountain then. I especially remember one healthy and red-haired brat. They were later shot. "
And Konstantin Stepanovich Merkulov, who suggested the idea of ​​a mannequin soldier, was glad that he had helped the Soviet soldiers with something. After all, he himself was not able to fight. He was disabled without both legs.