From the first day of the Russian counter-terrorist operation in Syria, the West tried to accuse pilots of the Russian Aerospace Forces allegedly to bomb not civilians, but civilians or representatives of the Syrian "moderate opposition". Russian officials denied these allegations, claiming that these fakes were born even before the Russian Aerospace Forces struck the first blows against the militants in Syria. Now the representatives of the "democratic coalition" declare that they may be wrong ...
RIA News
cites the statement of the Australian ambassador to Russia, Paul Mailer:
Russia conducts its intelligence operations in Syria, it has long-standing ties with this country, also with Iran and Iraq. If Russia can find the goals of the IG, which we could not determine, it will be great. We fully support this. We all fight with the IG. However, so far, guided by the facts that we are now witnessing, the goals of the Russian Federation are not the IG. Perhaps we are completely wrong.
At the same time, Mr. Mailer adds that the Western coalition "must see" that the goals of Russia are ISIS militants. This, according to the ambassador of the country of duck-bills, koalas and kangaroos, will become the main reason for combining the efforts of the West with Russia.
Meanwhile, the Western coalition itself had recently bombed the thermal power station and transformer substation in Syrian Aleppo, de-energizing the city.
Information from the Ministry of Defense of the Russian Federation.
According to the representative of the Ministry of Defense, Colonel General Kartapolov, reconnaissance transmits information on the crossing of the border of Syria (every night) to a hundred armed militants:
According to intelligence data, including radio intercepts, every night, armed extremists from Dzhebkhat al-Nusra cross the border to the 100 border crossing, and ISIS militants cross the border crossing to the Jarabulus district.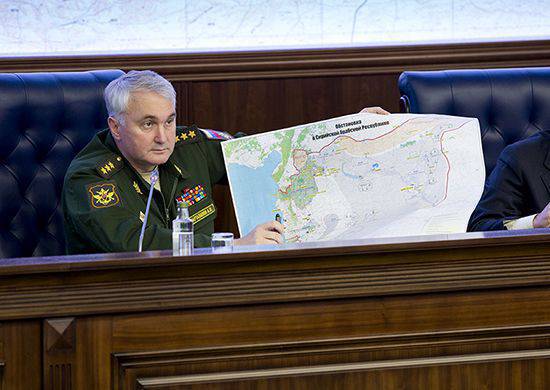 Andrey Kartapolov
told about the preliminary results of the operation of the VKS RF in Syria:
We only beat on objects of internationally recognized terrorist groups. Our aircraft do not work in the southern regions of Syria, where, according to our information, there are formations of the "Free Syrian Army". Since the beginning of the use of the VKS of Russia, 30 combat sorties have been carried out since September 669, of which 115 - at night. In total, during the attacks, according to our data, 456 objects were destroyed. According to the Russian General Staff, as a result of the airstrikes, it was possible to significantly disrupt the militants' infrastructure, supply system and control of terrorist groups.