Information Service
"BBC"
reports that in the area of ​​the city of Nablus in the West Bank, Palestinians set fire to one of the main shrines of the Jewish world - the tomb of Joseph. Incendiary bottles were thrown at the tomb by protesters disgruntled by Israeli actions to block Palestinian territories. Local authorities have reported serious damage to the tomb. The incident occurred in the dark.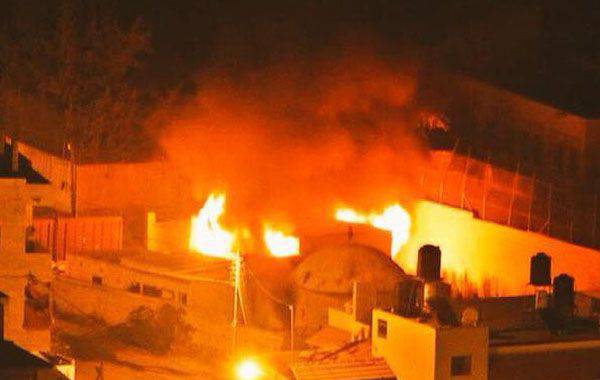 For reference: under the control of the Palestinian Authority Jewish shrine - the tomb of Joseph - 15 passed years ago. Since then, Palestinian attacks on the tomb are not uncommon. The first desecration of a Jewish shrine occurred immediately after the Israeli guards left the complex. And then (in 2000 year) the tomb was almost completely destroyed. The arson of Joseph's tomb was also marked last year. For her visit from time to time Jewish pilgrims are accompanied by soldiers of the Israeli army and police officers.
Palestinian Authority authorities condemned the attack on the Jewish religious complex. It is reported that an investigation has been launched with the aim of identifying those who threw the tomb with "Molotov cocktails."
The Palestinian news agency Wafa publishes an official statement by Mahmoud Abbas:
We oppose these kinds of actions that cast a shadow on our culture, religion and traditional heritage. I ordered the formation of the investigative commission, which will search for the perpetrators, then to condemn them to the fullest extent of the law.
Recall that in recent days, representatives of extremist organizations that are attacking military, police and civilians in the streets have intensified in Israel. A recent assault: An unknown person attacked an Israeli soldier in the Hebron Highlands with a knife. The terrorist posed as a photojournalist, wearing a bulletproof vest with the words PRESS. The attacker was eliminated.
In connection with the series of terrorist attacks, the Israeli authorities ordered to strengthen patrols on the streets, as well as to block Palestinian neighborhoods and settlements. The blockage provoked discontent among the Palestinians.