Agency
Reuters
, referring to the representatives of the OSCE monitoring mission, which continues to work in the Donbass, reports that the mission representatives allegedly found in the territories not controlled by Kiev, a heavy flame-throwing system "Buratino". The head of the OSCE "missionaries" Alexander Hug said that they "discovered for the first time" the TOC-1 "Buratino", and on the territory of the LPR - in the area of ​​the settlement of Kruglik.
Hug:
We saw it
weapon
on that training ground. Both sides agreed a year ago to withdraw heavy weapons from the contact line. The presence of him near the line of contact, of course, gives concern, since these weapons must be in storage and should not be used. Buratino is an indiscriminate and very destructive weapon.
Ukrainian media immediately picked up Hug's statement, urging the OSCE to figure out where the heavy flame-throwing system came from in the Donbass.
Attention is drawn to the fact that the OSCE mission operating in the Donbass, saw "Buratino" in the positions of the LC, but in a strange way can not notice the Ukrainian self-propelled artillery installations, multiple rocket launchers, howitzers and other heavy equipment that is in positions The APU is only in 3-10 km from the contact line and strikes the territories of the DPR and the LPR. So, in recent days, the Ukrainian army has again started shelling the territory of Donetsk airport, as well as striking mines in the area of ​​Gorlovka.
From messages of Eduard Basurin (video from the YouTube News Front channel):
It is worth recalling that earlier the Ukrainian side demanded that the OSCE mission confirm the "facts" of the shelling of Lugansk's airport with nuclear warheads advancing "from the south-north", the use of chemical weapons by militias and even God knows what. Now we are talking about "Buratino".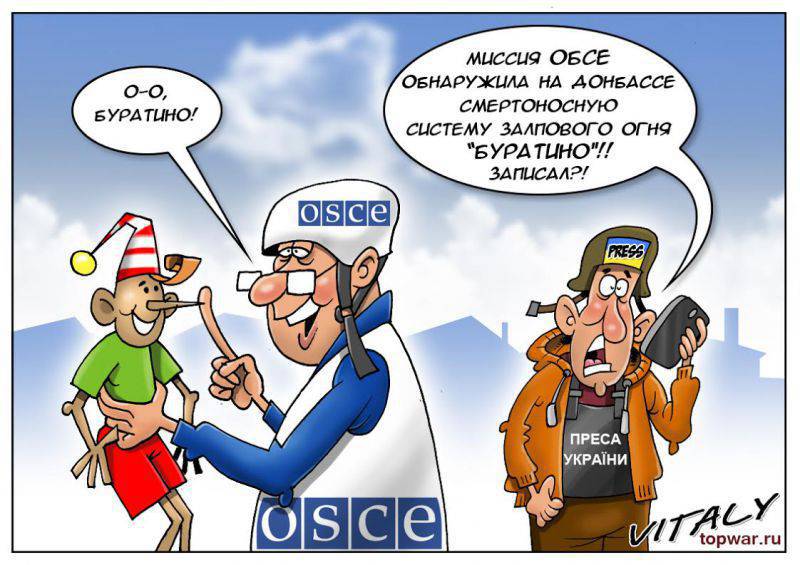 And they didn't find "Topol" and the nuclear submarines emerging in the Seversky Donets? ..