The network has published numerous photographs of Russian Mi-28 helicopters, the authors of which claim to have rotated helicopters in the airspace of Syria. At the same time, photos of Russian helicopters are published by various Internet resources. The Ministry of Defense has not yet commented on the information about sending Mi-28 to an air base in Syria.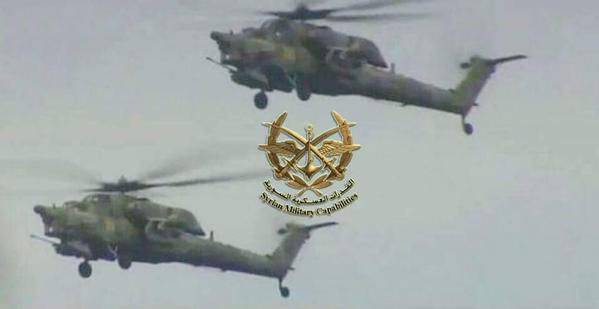 According to the authors of the photos, the Mi-28 helicopters were photographed by them in the Latakia region. If Russian Mi-28 helicopters do appear in Syria, then this will significantly expand the possibilities for air support of the Syrian government army advancing on different fronts. At the moment, Russian Mi-24 helicopters are working in the Syrian sky, the professional actions of the crews of which have received flattering feedback even from Western "partners".
Mi-28 - attack helicopters of the army
aviation
which are intended both to eliminate enemy manpower and to destroy armored vehicles, including
Tanks
. In addition, the helicopter is capable of striking at air targets, including cruise missiles.
Mi-28 can perform operations to detect and destroy the enemy in conditions of insufficient and poor visibility. The crew of the helicopter - 2 man. The mass of "empty" - just over 8 tons. The maximum declared speed is 300 km / h, the flight distance is 450 km. Static ceiling - 3,6 km, dynamic ceiling - 5,6 km. Helicopter lifting speed - up to 13 m / s.
The helicopter is armed with 30-2 42-guns (300 shots), C-8 and C-13 unguided missiles, an air-to-air missile complex. Depending on the modifications, the Mi-28 helicopter can carry other weapons variations on board, including a minefield complex.