The head of the DPR, Alexander Zakharchenko, commented on the demand to cancel the results of last year's elections in the people's republics of Donbass, voiced by Petro Poroshenko. Recall that the President of Ukraine announced that "to implement the Minsk agreements, the election results in Donbass November 2 2014 of the year must be canceled." At the same time Poroshenko called the elections in the DPR and the LPR "pseudo-elections".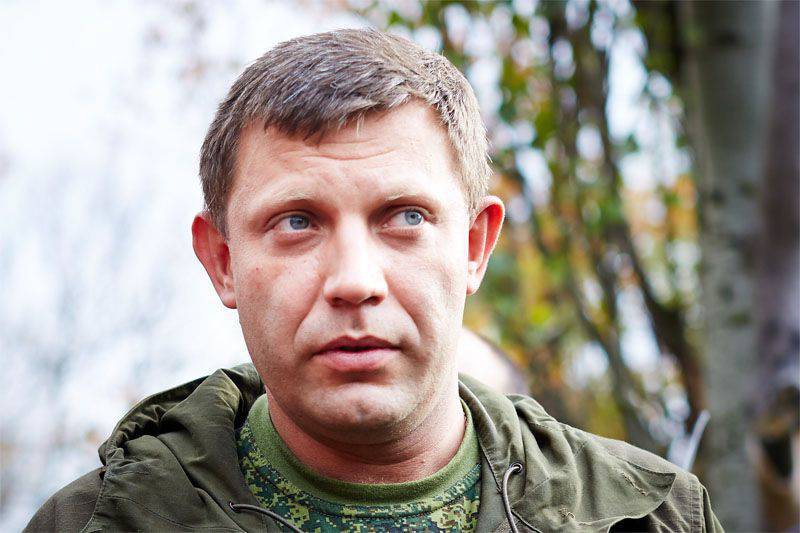 Donetsk News Agency
cites the statement of Alexander Zakharchenko:
Based on what? The fact that Poroshenko is afraid to sit with me at the negotiating table? Ashamed to sit down at the negotiating table with the one you lost? Isn't it a shame to bring your country to civil war and economic collapse? However, we are ready to consider the question of canceling the elections in the Donetsk People's Republic of November 2, 2014. But on one condition. First, the presidential elections of Ukraine Poroshenko in the spring and the elections to the Verkhovna Rada in the autumn of 2014 should be canceled.
At the same time, Zakharchenko substantiated his response proposal by the fact that in the elections held last year in the Donbass there is much more legitimacy than in the elections in the territory, which is somehow controlled by Kiev.
Alexander Zakharchenko:
And my proposal is more reasonable, even in terms of democratic standards. The basis of our elections is the most democratic of all possible procedures - a referendum. And at the heart of the elections Poroshenko and the Verkhovna Rada is an armed coup d'etat. The elections in Ukraine themselves were accompanied by political terror and a ban on competition. And a significant part of the country did not vote at all. So our elections are more legitimate even in terms of democratic procedures. And let not only Poroshenko, but also Ukrainian voters think about this.
Recall that the authorities of the DNI and LC went to the transfer of elections scheduled for October and November
current
year, explaining his step desire to stop the armed confrontation. Now Kiev is in charge of re-voting under the law on special status, the restoration of economic ties with the DPR and the LPR, as well as other steps that the ukropresident promised to perform during the meeting of the "Norman" four in Paris. But the price of Poroshenko's promises is well known to all.