On the Internet, more and more videos appear showing the attacks of Russian Mi-24 helicopters on the position of the Islamists in Syria. Moreover, they are placed as supporters of the Russian operation, and its opponents. Experts interviewed by Foreign Polic magazine believe that the pilots who manage the combat helicopters demonstrate the highest level of professionalism.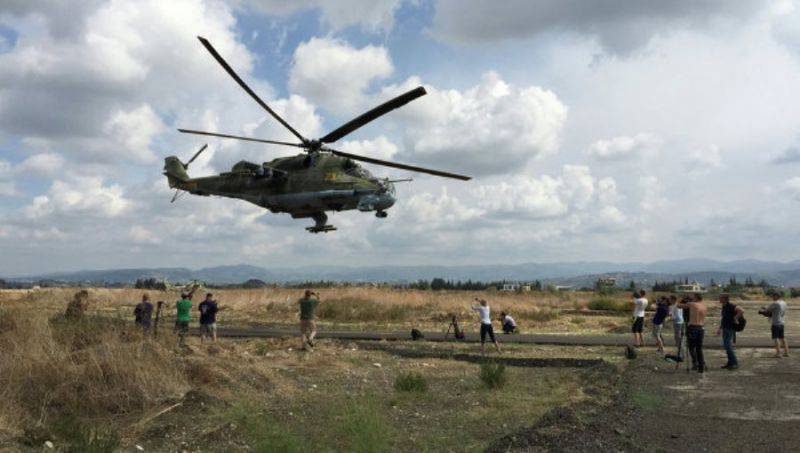 Magazine, an article from which leads
RIA News
, notes that the pilots of the helicopters are exactly the Russian pilots, not the Syrian ones, who also mastered these machines long ago. This conclusion is made by the publication on the basis of the stories "close observers of the conflict, pointing to the high skill of the pilots", and also that "the helicopters used recently are newer versions of the Mi-24 than those that are in service with the Syrian Air Force."
A military expert interviewed by the magazine, US Navy veteran Christopher Harmer, said that "a video with two Mi-24s that fly so close to the ground and shoot rockets shows
the highest degree of high qualification
, the great courage of the crew of the Russian helicopter.
"If you see a high level of professionalism and airmanship, as well as the accuracy of the fire opened from a helicopter, then 100%, that they are Russian pilots. Since the Mi-24 combines heavy weapons with the transport fuselage, they can be used to transport units of Russian special operations to the front line. This, in turn, may allow Russian forces to focus on the direction of airstrikes, taking into account the data transmitted from the helicopter, and carry out direct missile strikes along the air-to-ground and ground-to-ground lines. "
, - he added.
The magazine also points out that "the Russian air operation allows Asad to solve one of the main problems in the military campaign, namely, to prevent large losses of infantry."