Representatives of the Donetsk People's Republic showed a map showing the positions of the Ukrainian air defense systems in the Donbas region in July 2014. The deputy head of the defense department of the DPR, Eduard Basurin, notes that this document is a trophy - it was left with officers of the 1 battalion of the 95 separate airmobile brigade along with other important documentation. Basurin recalls that the Donetsk map was already shown some time after the crash of the Boeing, but then in Kiev and in the West it was called a fake. Now, Basurin believes, the real map of real Ukrainian positions is becoming even more relevant, since it unequivocally confirms the conclusions made by the specialists of the Almaz-Antey concern.
Donetsk News Agency
quotes Eduard Basurin:
This document, in our opinion, is a direct evidence confirming the guilt of the Ukrainian soldiers in the destruction of the Malaysian "Boeing". (...) On this map, the launch positions of the Ukrainian Buk anti-aircraft missile systems are marked. One position is located near the settlement of Gruzsko-Zoryanskoe, three kilometers west of Ilovaisk, the second is two kilometers south of Shakhtersk, near the settlement of Zaroshchenskoye, at a height marked 224.8. That is exactly where the Russian experts indicated.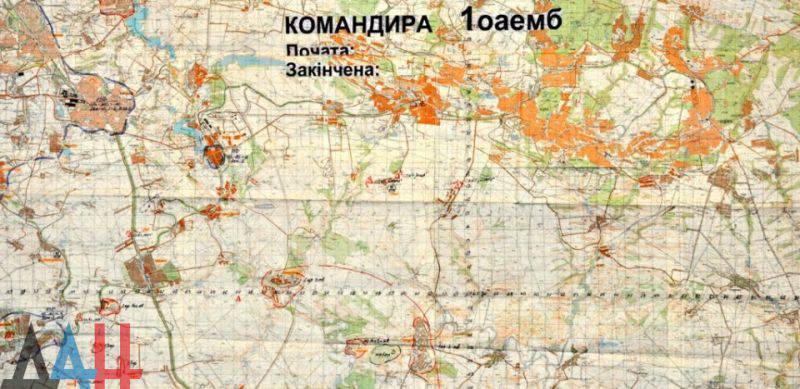 Basurin continues:
Any sane person, having studied all the official evidence, including the maps presented by us, cannot but conclude that if the Boeing 777 was brought down from the ground, it could only be from the territory controlled by the Ukrainian army at that time Zaroshchenskoye village - and from
weapons
, still in service with the Ukrainian army.
Should we expect that Kiev recognizes the involvement of the Ukrainian military to the strike on MH-17, given that Kiev still does not recognize the strike on the Tu-154 in 2001? .. Rosaviatsiya reports that Ukraine has not officially recognized its guilty of the horrible incident over the Black Sea, when the teachings of the Ukrainian army led to the death of airliner passengers. According to the deputy head of the Federal Air Navigation Agency, Oleg Storchevoy, compensation to the families of those killed by Ukraine has not been paid even 14 years after the tragedy.