Senator from the US Republican Party, Mr. McCain, is very worried that Russia is the flagship in the fight against terrorism in Syria. Perhaps McCain's worries are aggravated by the fact that he himself very warmly welcomed those who had become the leaders of the so-called Islamic State and other extremist groups operating in Syria by this minute. According to McCain, "Russia's actions in Syria must be stopped."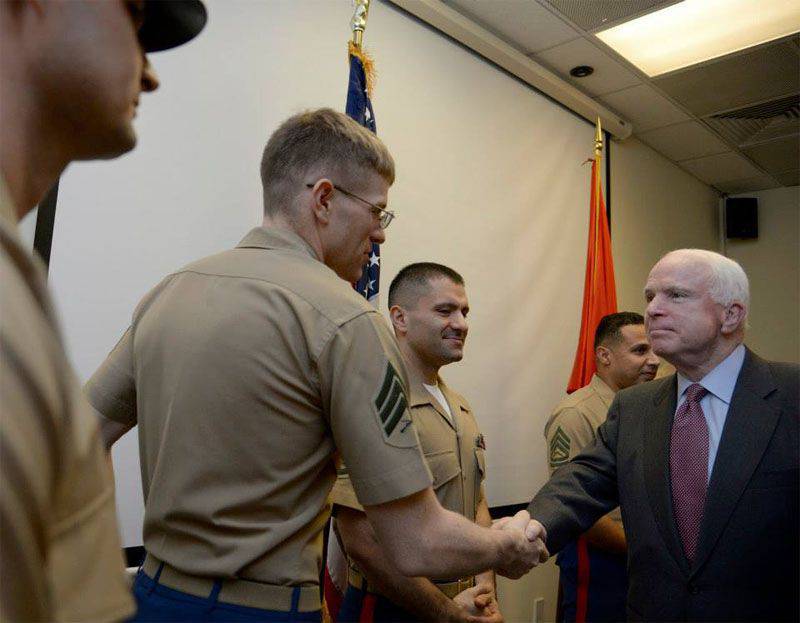 The senator who heads the Senate Arms Committee presents his thoughts on the situation in Syria (
CNN
, translation
"Russia1"
):
The Russian military invasion of Syria at the behest of President Bashar Assad represents a catastrophic turn of events in the Middle East — another degrading US blunder. As in the previous critical moments, the White House again makes mistakes. Just think: a few weeks ago, the US administration warned Russia against the introduction of troops into Syria. But Russia did it anyway. Then the administration tried to block Russia's access to the airspace of Syria, and it failed. What are the consequences? President Barack Obama was reluctant, but agreed to the first meeting in two years with Russian leader Vladimir Putin.
McCain calls on Washington to "stop Putin in Syria and help the US-backed opposition." So already "helped" - again dropped from transport workers to the joy of ISIS 50 tons of ammunition ...
At the same time, McCain states that the States "showed goodwill by starting consultations with Russia on Syria," and immediately adds that "Putin responded aggressively to this."
"Aggressively" is what? If you have started actions against terrorist giggles of such gentlemen as McCain himself, then yes ... the Senator needs to stop being nervous, for years, years, health ... - as if nothing happened ...