Today, October 14 in Ukraine celebrates the "day of the defender." This is a kind of substitute for February 23 - the traditional holiday of the defender of the Fatherland, which the Maidan authorities decided to give up as part of the so-called "decommunization", or rather, as part of the next wave of attempts to reinterpret
history
.
October 14 date was chosen due to the fact that on this day in 1942, the Ukrainian Insurgent Army (UPA) was formed on the territory of Ukraine, distinguished by its cruelty primarily towards its fellow countrymen, as well as the Polish population of the occupied territories.
On the eve of the "holiday" Poroshenko urged to educate young people on the "ideals of the UPA." "On the ideals of the UPA"? What is it like? "To rob, cut, rape, shoot, burn villages or swear allegiance to the Nazis under the slogan of" struggle for freedom "? ..
At this moment in Kiev are celebrations on the occasion of the new holiday.
Poroshenko spoke at a rally on Mikhailovskaya Square and said that Ukraine began to receive from abroad "non-lethal defensive
weapon
"(
UNIAN
):
We do not need foreign soldiers. Ukrainians have enough military skill and fortitude to protect their land from invaders. But we are grateful for the defensive non-lethal weapons that we finally began to receive.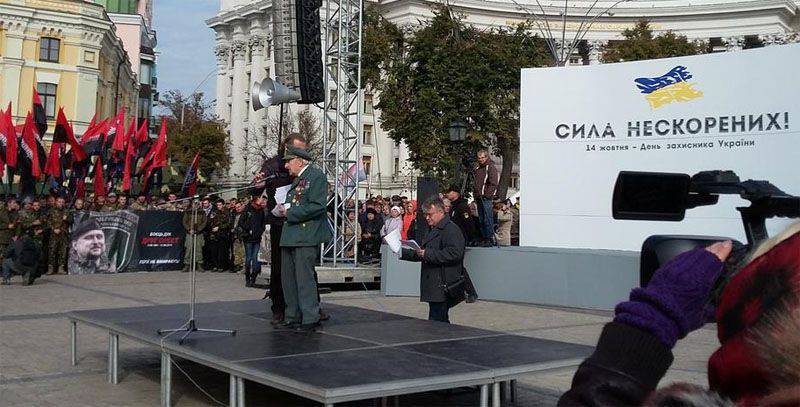 A photograph with the now-living representative of the UPA once again "seems to hint" at the inconsistency of the liberal cries of "the most severe Stalinist repression."
At the same time, Ukrainian radicals from the number of Pravoseks and Svobodov of Tyagnibok, who came out under the slogan "Shukhevych and Bandera are our heroes," hold their rally.