Press Service of the North
fleet
(SF) announced the completion of the restoration of the systems and mechanisms of the heavy aircraft-carrying cruiser (TAVKR) "Admiral of the Fleet of the Soviet Union Kuznetsov", which will leave the port of Murmansk before the end of this week.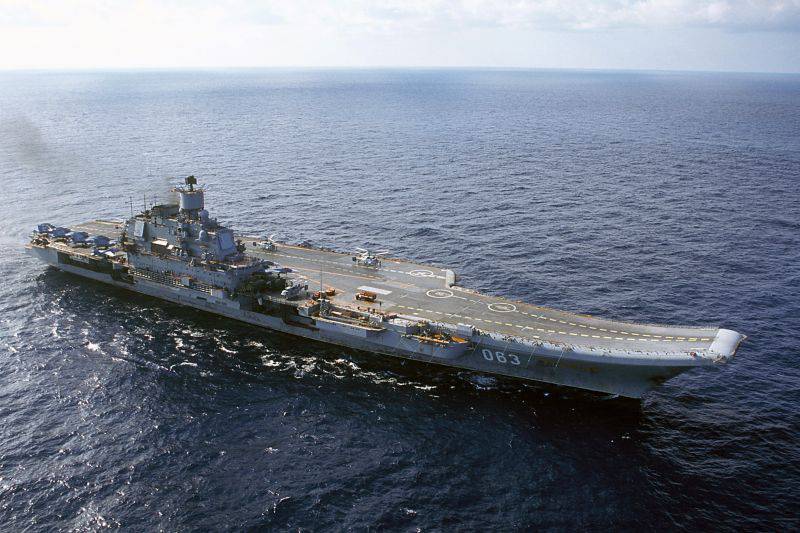 "The carrier will rise in the Kola Bay, where he will prepare to go out to sea," - leads the press service
"Military Industrial Courier"
.
At sea, the aircraft carrier will be used to train deck pilots who have worked out the landing elements using the "Thread" simulator in the Crimea.
Earlier, the aircraft carrier was docked - from May to August - at the 82-th ship repair plant, which is located in Roslyakovo on the territory of the Murmansk region. In the course of the docking, a large amount of technical work was carried out, which affected, among other things, the underwater part of the hull, which was cleared of marine sediments and painted. Also, various systems of the electromechanical part, which are responsible for the driving performance of the ship, were repaired. The next stage was the restoration to full combat readiness at the regular parking lot in Murmansk.
Construction of the only aircraft carrier in Russia - the TAVKR "Admiral of the Fleet of the Soviet Union Kuznetsov" - began on September 1, 1982, and was launched - December 4, 1985. During the cruises, the Su-33, Su-25UTG, Ka-29 and Ka-27 helicopters are located on the ship.