Speaking at the Russia Calling! Annual Economic Forum, held under the auspices of VTB Capital, the Russian president said he was quite surprised when someone tries to "call on the Russian Federation to implement the Minsk agreements." Vladimir Putin recalled that Russia is not a party to the conflict in Ukraine, which, according to the Russian president, is spoken by the official position, not backstage gossip, of Kiev.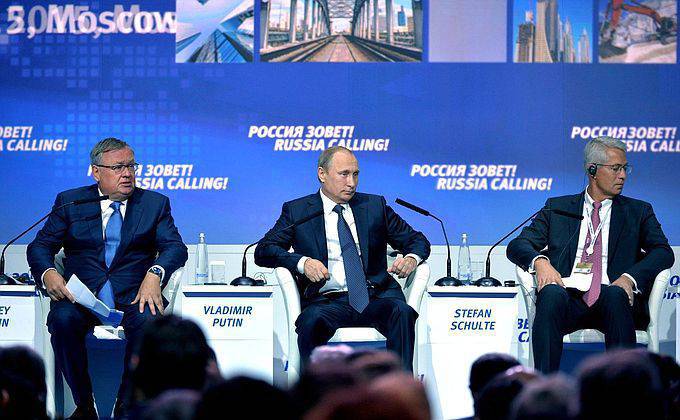 Vladimir Putin quotes news agency
TASS
:
There is no alternative to the Minsk agreements. But all the time talking about the fact that Russia must fulfill them becomes ridiculous. This is becoming frivolous, not funny, just ridiculous. There are many problems there, but the vast majority of them are not in our competence. Our colleagues in Europe and the United States see it or not?
Further, Putin noted that the West sees the see, but at the same time all the problems of Ukraine consciously trying to shift to Russia.
President of the Russian Federation:
I think see. I have reason to believe that they see exactly, but they are not comfortable saying that the current authorities in Kiev are not able to solve this problem. It is much easier to pass us on and say: "Look, you have to strengthen, triple and wear out there". But we need our partners to fulfill their obligations.
Recall that in the Minsk agreements it is written in black and white about obligations for the parties to the conflict, which are Kiev on the one hand, and Donetsk and Lugansk on the other. If in the West they are persistently trying to "force Russia to fulfill the Minsk Agreements", stating that it supports the LC and the DPR, then why does the West not call itself to Minsk-2, because it supports Ukraine?
This logic of double standards (or, rather, the standard of servicing purely their own interests, disregarding the interests of others) of our Western "partners" is increasingly getting out.