At the exhibition "Russian-Chinese EXPO 2015", held in Harbin, presented an updated version of the Mi-171A2 helicopter. The helicopter is equipped with Klimov's engines - VK-2500PS-03, which are distinguished by increased power and economy. The Mi-171А2 is a new radio-electronic equipment, which is an integrated flight-navigation system with the open architecture of the KBO-17 (from KRET).
Corporation
Rostekh
cites the statement of the general director of the holding "Helicopters of Russia" Alexander Mikheev, expressed during the exhibition in Harbin:
Our holding creates and modernizes helicopters using modern technologies and taking into account the opinion of operators. We have the intellectual resources and the necessary production facilities for the creation of promising machines, which will become a new stage in the development of the world helicopter industry.
The presented helicopter Mi-171А2 has a propeller with blades made of a special composite material, which have a high service life due to improved aerodynamics.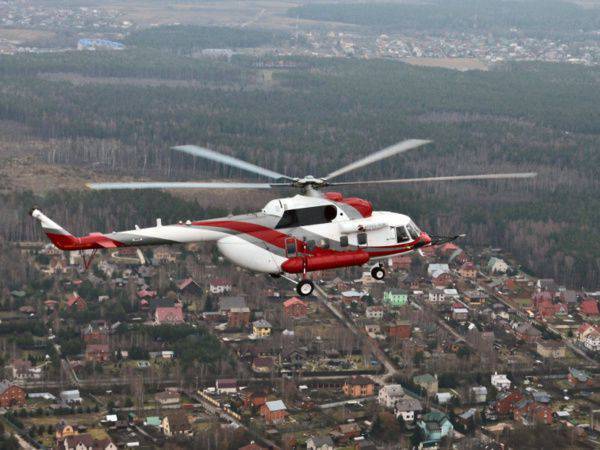 In the holding company "Helicopters of Russia" report that the Mi-171А2 can be used both in normal conditions and in high altitude conditions. He is able to perform work in the air at high temperature and humidity. A special flight-navigation equipment makes it possible to effectively operate a helicopter at any time of day in normal and complex meteorological conditions, including over the sea surface.
The helicopter can be used as a transport, passenger, fire, search and rescue, medical evacuation.
During the exhibition "Russian-Chinese EXPO 2015", the updated rotary-winged car aroused particular interest among representatives of countries in East and Southeast Asia.