The Netherlands, coordinating the work of the Malaysian Boeing Commission of Inquiry, ignores "comprehensive information that Russia provides," writes the New Straits Times, which had at its disposal a letter from Oleg Storchevoy, deputy director of the Federal Air Transport Agency, addressed to the leadership of the International Civil Organization
aviation
.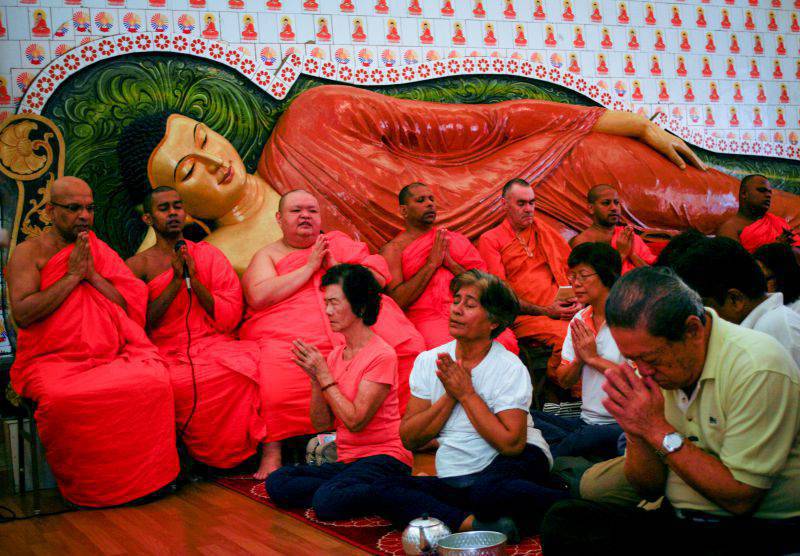 Buddhist monks pray for passengers and crew members of a crashed Malaysia Airlines flight MH17, 20 July 2014.
"Almost two days before the publication of the report on the causes of the crash, the Russian side is clearly not satisfied with the investigation conducted by the Netherlands," the newspaper quoted the article
Look
. "Of particular concern to Russia is the fact that one of the basic principles of investigating air incidents — the sequence of conclusions — was ignored."
According to Storchevoy, "instead of first examining the nature of the damage to the nose of the aircraft and the fuselage, and then making logical and final conclusions, it immediately announced that the airliner was shot down using the Buk anti-aircraft missile system, moreover - from the place that was indicated immediately after the disaster. "
"Storchevoy also noted that the methods for calculating the location where the Buk was allegedly located were not explained. In addition, according to him, the conclusions were made even before the characteristics of the elements that hit the aircraft were established, "the newspaper writes.
"At two meetings with Dutch investigators information was transmitted from the manufacturer of the Buka Concern Almaz-Antey Air Defense, detailed information on two missiles - 9М38 and 9М38М1, in addition, the test results were provided," the Russian expert quotes the publication.
"However, the Netherlands ignored all the detailed calculations, eventually came to conclusions that contradict common sense and do not correspond to the parameters of the rocket. In particular, according to the investigation, the weight of the warhead was 33 kg, and it was stuffed with 3-4 thousand damage elements, and the weight of each was about 3 g. But this absolutely does not apply to the system "Buk" "
- says the letter Storchevogo.
The newspaper recalls that on October 13 the Netherlands Security Council intends to submit a final report crowning the work of the investigation team during the last 15 months. The report should answer the question of what caused the death of the passenger ship 17 July 2014.