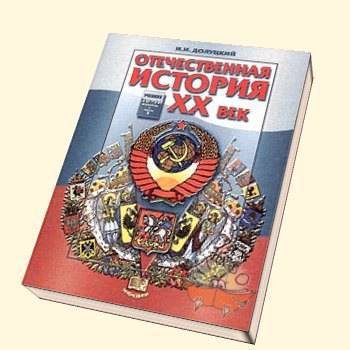 Yesterday, the textbook "Patriotic
история
. XX Century ", published in 1996 year. Author - I.I. Dolutsky, Mnemozina Publishing House, Moscow. The book is intended for students of 10-11 classes, recommended by the Ministry of Education of the Russian Federation. I have not read it to the end yet, but I "killed" most of the night: I just could not tear myself away. Were upset different feelings - from horror to impotence.
It turns out that I was supposed to go to school in this textbook, but this did not happen for some unknown reason. Probably, our teacher refused. But after all, there were those guys who studied this "History" in the classroom and prepared homework for it, reports, essays, preparing to take exams at a university ...
I will not comment on anything. Just give some quotes, and everything will become clear. Punctuation and spelling I kept. So if you notice errors (and they are there) - this is not mine.
20 page. "Stalin never selflessly interested in other people, their fates. He very rarely felt sympathy for anyone. These types of leaders are always, according to M.E. Saltykov-Shchedrin, go ahead, as if the road on which they found themselves, belongs exclusively to them. From a distance it may seem that these people, although of harsh, but strong convictions. However, this is an optical illusion ...
... In 1941, the Stalinist arrogance disappeared. "Leader of the Nations" was ready to recognize the primacy of Hitler. What do you think really brings these politicians together? .. "
48 page. "... Any old soldier will tell you that his attitude towards the allies (of England and the USA) and then, in the war, and now is very skeptical. He does not understand the soldiers: why did they not open the second front, did not help us?
Only he forgot or doesn't know - we joined England, which fought a whole year alone against fascist Germany. This is our country has become a second front ...
... Until June 1941, the Soviet leaders observed the collapse of the front in France with stone calmness ... They rendered considerable economic and other assistance to Nazi Germany ... Now, their impulse was - and then became their permanent policy - to demand all possible assistance from Great Britain ... Do not hesitate, the Soviet leadership, in an urgent and sharp manner, began to demand from exhausted and fighting England to send military materials, which her own army lacked so much ... "
52 page. "Who considered Leningraders who died on the mainland? Who can say how many children were promoted during a crazy race along the "road of death" through Ladoga? How many mothers threw themselves? You say, this can not be so that the mother of her own child ... But what do we, well-fed, know and understand about ourselves and other people? ..
Smoked meat, condensed milk, and other delicacies were taken to the besieged Leningrad ... Fattered power was not inactive. There was no light, water, radio, newspapers ... Leningraders found themselves in a double ring - inside and out. They - not knowing that Stalin did not hope until 1942, for a favorable outcome of the war ... - survived, survived ... "
115 page. "... Perhaps, the only fundamental difference between Zhukov and Rokossovsky is that he was lucky to Georgy Konstantinovich - he did not sit in the camp" ...
123 page. "... And the dead? Here they are in the winter in a neutral position - stripped to their underwear. Undressed trophy team (his!) Those who were close to our trenches. And it was thought to the fighter: even if they killed him closer to the Germans, trophy players crawl in their faces ...
Many participated in the war, and anybody did his business not by choice, but by order ... "
154 page. "... Of course, we should have taken Berlin on May 1, the Day of International Solidarity of Workers. In any case, political work was conducted in this direction in our troops. One after another, the attacks on the Reichstag rolled and choked ... "
171 page. "Our victory seems to many unnecessary and terrible at its price. People are surprised: "Why did we win that war?" They point to Germany: they say that she lost, so that we live like that ...
When we only won,
All countries have crushed in a row
it is abundant in the country
Nerds, Kholuyov, soldiers.
When only we won,
We would become higher than other races,
from the world would have fenced off
Barbed wire us.
The country would have strengthened the nerves
Driving their people into a coffin.
The offspring for her - canned
And the blood - raspberry syrup.
Then b all thinkers tried,
And the prisons would be full
When only would we win ...
But, fortunately, we are defeated.
So wrote the German poet E.Kestner after ... the first world war. And with us - "when we won" - and it turned out "...
I could not read further. Forces are not enough, and the night was nearing morning. I did not have time to look on the Internet for information about the author of the textbook, but I will do it without fail. In the meantime, what do you say, dear readers of Military Survey? ...