The optical-mechanical plant "Jupiter" (Valdai company) plans to create modifications of holographic sights for the needs of the Russian army. Now the company's specialists have implemented a holographic sight "Valdai-PG210", which is a type of collimator sight and forms a virtual image of the aiming mark at infinity due to the restoration of the previously recorded hologram using laser technology.
For your information:
:
hologram
- a special optical image recording method in which a laser is used to register and restore images of three-dimensional objects. Such images create the effect of perception of a real object.
RIA News
quotes the statement of the head of the general director of the Jupiter plant, Nikolai Klimkin:
In the process of creating a holographic sight "Valdai-PG210", the plant developed the technologies of mass production of relief-phase hologram and diffraction elements absent in Russia. On the basis of the developed constructive and technological solutions, it is planned to create a whole range of holographic sights with unique properties. (...) now we are developing unparalleled versions of the holographic sight, in the design of which it is possible to change the image of the aiming mark.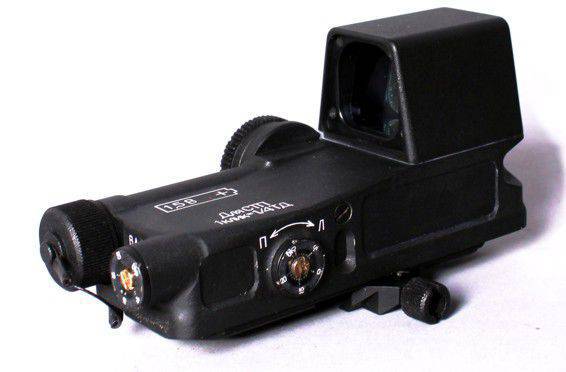 The holographic sight "Valdai-PG210" was first presented at the exhibition in October Kubinka near Moscow.
From materials
Factory "Jupiter"
:
The design of the sight window minimally blocks the target, leaving a wide field of view open. The rim of the window of the sight is almost imperceptible, which makes it possible to control the situation with two eyes and increase the effectiveness of hitting targets, especially moving and appearing for a short time. Such a characteristic of the sight as "removal of the exit pupil" is absent, since the eye can be positioned at any convenient distance from the sight.

A large range of brightness adjustment of the aiming mark allows using the sight both on a sunny day and at night with a night vision monocular. The number of gradations of changes in the brightness level of the aiming mark to the 9 levels: 4 night and 5 day levels.

High-transmittance enlightened optics (more than 80%) in the visible and infrared range allows you to work up to deep twilight in the visible range and maintains the luminosity in the infrared range when working through the night monocular VALDAI-MH120.
The holographic sight is mounted on the Picatinny rail, for which a special mount can be used.
Characteristics of the holographic sight "Valdai-PG210".
Weight
: 297 g;
field of view when removing eyes on 100 mm
: 12 degrees, window 25х25 mm;
type of food
: AA, 1,5B batteries (operation time from one cell with an average brightness value of at least 2 kt / h),
reticle alignment range
: 60 angular minutes;
reconciliation step
: 0,25;
Operating temperature range
: from -40 to + 50 Celsius;
overall dimensions
: 133 * 80 * 53 mm;
transmittance over the entire range
: at least 80%.