Petro Poroshenko holds a meeting with President of Kazakhstan Nursultan Nazarbayev. According to Poroshenko, a plan of trade and economic activities for the period up to 2017 was signed between Kiev and Astana. Kazakhstan, the Ukrainian president called Ukraine a window to Asia, and Ukraine to Kazakhstan a window to Europe.
The signed agreement refers to the cooperation of the two countries in the field of agriculture, energy and engineering.
Poroshenko congratulated Nazarbayev on the 550 anniversary since the founding of the Kazakh Khanate.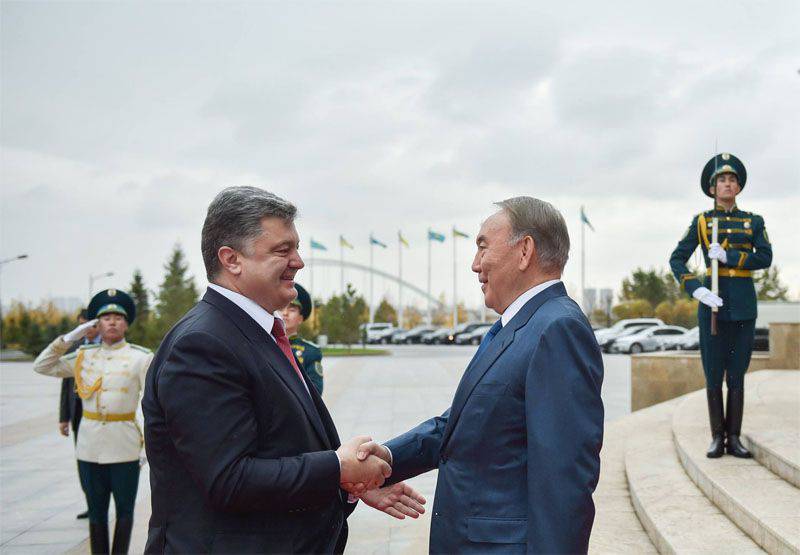 Kazakhstan leader Nursultan Nazarbayev is quoted as saying by the official
broker
President of the country:
On many issues we have a complete understanding. During the upcoming meetings of the intergovernmental commission, all key areas will be worked out in detail. Today's business forum will also make a great contribution to the cooperation between our business circles. Despite the fact that commodity turnover has now decreased due to objective reasons, we find opportunities to further strengthen our cooperation.
Before the visit to Kazakhstan, the Ukrainian president once again announced that Russia "destabilizes the situation in the world." According to Poroshenko, "Putin wants global instability to achieve his goals." Apparently Poroshenko, being impressed by the latest events, confused everything, because destabilizing the situation in the world is the prerogative of Poroshenko's overseas puppeteers overseas.