At the beginning of the civil war, the Syrian military had an impressive arsenal of artillery pieces, mostly outdated, such as D-30 howitzers and M-46 cannons, as well as rather exotic systems, like C-23 cannons, capable of hitting targets at a distance more than 30 km writes
"Messenger of Mordovia"
.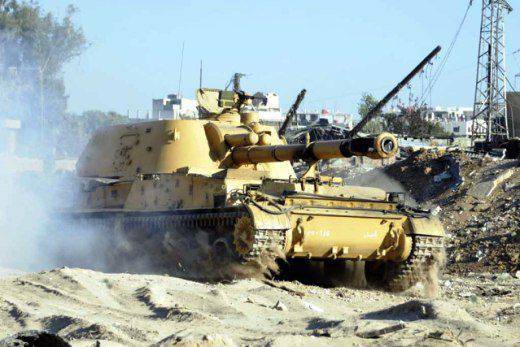 "If we talk about modern means of reconnaissance, automated field artillery fire control systems, in this direction the Syrians lag behind the armies of Israel and Turkey was catastrophic. The fact is that after the collapse of the Soviet Union, the Syrian artillery units stopped receiving new equipment from Russia, while Western countries were in no hurry to sell the modern Baathist regime
weapon
. In addition, the general training of artillerymen, both officers and soldiers, was relatively low, "the material says.
Therefore, at the beginning of the war, Syrian artillery showed itself rather mediocre: the low level of training and the lack of modern reconnaissance units led to firing at the squares, often with zero result.
Over time, the professionalism of Syrian artillerymen grew, but another problem appeared - the lack of serviceable equipment. The shortage of spare parts, the wear of guns greatly thinned the arsenals of the Syrian military, therefore, according to military experts, at the moment they will need self-propelled artillery for effective offensive operations. For the first time, there will be enough serviceable self-propelled guns of the 2C3 type, which are already well known to Syrian artillerymen.
After overcoming the artillery of the crisis "would be nice to have been to provide the Syrians upgraded 2S3M2 with automated control systems, guidance and fire, long-range ACS 2S5" Hyacinth ", and 2S19" MSTA-S "and systems of automated fire control units of self-propelled artillery and corrected munitions, the newspaper notes.
All this will necessarily increase the combat capability of the Syrian military and contribute to the defeat of the gangs.