Head of the General Staff of the Russian Federation Valery Gerasimov takes part in an international conference on security issues in Afghanistan and Central Asia. During the conference, which began in Moscow, Valery Gerasimov noted that the actions of the international coalition led by the United States do not lead to results in the fight against international terrorism in general and the ISIL group in particular. According to the head of the General Staff of the Russian Armed Forces, an increase in the activity of terrorist groups in the north of Afghanistan is recorded, which represents a threat to the countries of Central Asia, primarily to Tajikistan and Uzbekistan.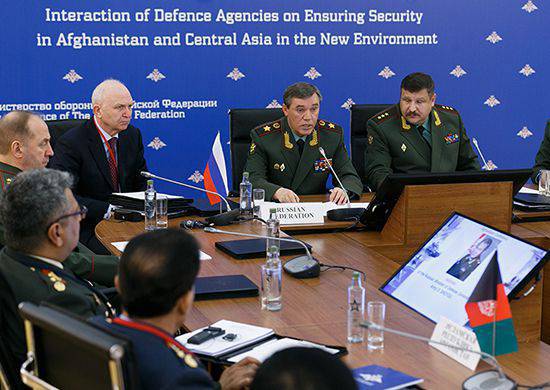 Valery Gerasimov noted that at least 50 thousands of militants of various extremist organizations are operating in Afghan territory.
Press Service of the Ministry of Defense
cites the statement of the Chief of the Russian General Staff
The previously created mechanisms of regional security based on mutual deterrence do not work today. There are new challenges and threats that are not specific to this region. According to our data, there are thousands of militants of the so-called "Islamic State" in Afghanistan from 2 to 3.
Gerasimov:
As a result of the sabotage and terrorist activities of radical extremists, the number of dead Afghan citizens this year increased by 25% and reached over 3,5 thousand people. About 7 thousand were injured.
Gerasimov called on the countries of the region to unite to counter the terrorist threat. The head of the General Staff of the Armed Forces of the Russian Federation spoke about refugees from Afghanistan:
According to some data, already this year in search of refuge in the countries of the continent up to 1 million people can go. Many among them come from Afghanistan. Every day, the Afghan authorities are referred to 8 thousand for issuing a passport.
Zamir Kabulov, Special Presidential Representative for Afghanistan, also spoke at the conference. According to him, training camps for ISIL militants are being operated in Afghanistan, and people from the Russian Federation and Central Asian countries are being trained in these camps.
Representatives of Afghanistan, Tajikistan and other countries of the region take part in the Moscow conference.