It was interesting to read the comments to the event, which was held by Russian sailors in the Caspian Sea in foreign media. And even more interest caused comments to
news
.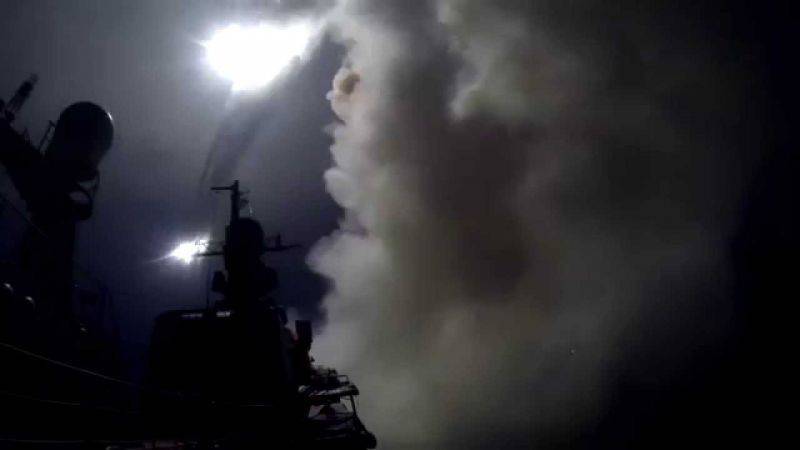 The separation turned out weird. Approximately in half. Half just said nothing, the second howled like a polar bear in warm weather.
Question: why shout something like that?
First, Putin said that Russia would not take part in ground operations. Any normal person who not only eats into his head, but also thinks from it, it is clear that launching rockets from ships is not a ground operation. At least - above water. And about the surface Putin did not say a word.
Secondly, intelligence, as the Syrian practice has shown, is no worse than the American one. And even much higher. At least in terms of targeting everything is in order. The hospital differs from the command center at times. And if our intelligence gets information that militants are going to arm MANPADS and ZSU, even if they are ancient, like camels, then why not save the nerves and money for those behind it?
Here's a quick wit test. There is a threat to our pilots - this is an option. No, if someone thinks that he is so cool that he can knock down the "Caliber" with the "Stinger" - no question. There is a precedent, have fun. Well, if in the process this someone will be slightly "calibrated" - sorry, we are here sort of like fighting international terrorism.
The US Permanent Representative to NATO, Douglas Lute, generally stood in a position and said that NATO would not share intelligence data with Moscow as long as Russia supports the regime of Syrian President Bashar Assad.
Douglas, our dear, if you want to believe, if you want to - we will survive. In the end, it is already your headache, that our rockets and bombs fall on those whom you keep.
"We may have a common interest - to defeat the IS, but we do not have a single goal in terms of supporting the Assad regime. Obviously, the Russian forces are working to support Assad, but members of the international coalition believe that Assad should leave. So far we have such a discrepancy in order here, I don't see any prospects for us to share information from the special services. "
This is Douglas "possible", yes. This is a round of applause. That is, in this "coalition" they have not really decided whether they want to defeat ISIS or not. Well, we are not proud. We'll wait until they figure out what is more important: kill ISIS or shift Assad. For the time being, we will continue to work on our business. And in this situation - who did not hide, Shoigu is not to blame. He is not visible from such a distance even through a satellite.
In the "New York Times" funny article came out. With a bunch of charts and tables. It's funny, but in it the Americans tell and show the Americans that the US Air Force is engaged in Syria do not understand what. Well, if it came to such a media that something is not quite right here, then what about less conservative ones?
http://www.nytimes.com/interactive/2015/09/30/world/middleeast/syria-control-map-isis-rebels-airstrikes.html#compare-strikes.
And about a third of Americans, if the translator does not lie, speak roughly in the spirit that, yes, something is wrong with ours in Syria. And not so.
Arab channels from among those who do not drink with us (figuratively, naturally), are already full of photos and videos, telling about how many innocent people died as a result of Russian air strikes. There is nothing about the lionfish yet, but I think they will appear soon. How so without it? Otherwise, in Al-Jazeera, the famine will come.
We must all breathe out and calmly assess the situation. And it is this: according to the Russian proverb, telling about the finding of kontroldetal with a screw on an intricate detail. And everything will be fine.
There is no reason to shout that Russia wants to seize Syria and arrange Novoros Syria there. Would like - would have captured. And Ukraine would have captured the whole, if there was a need.
Time is what everyone needs. Ponder, comprehend. Calmly and without panic. And then in the States an emergency meeting in the Security Council, the King of Saudi Arabia in the hospital with a heart attack, or something else. Apparently, the rockets to the right place actually arrived.
I would like to say to the whole world in the style of Carlson: "Calm, only calm! This is all nonsense, it's everyday." The Americans in Yugoslavia launched a lot more rockets and much less hit. And there is only 26. It's okay
It is only necessary to sit, think, not to deliver the Stingers to the Igilovsky, and everything will be beautiful. Wait until the Assad army finally completes the terrorists with our modest support, and then come and say: "Well, we LIH won!" And the most important thing is that no one in Russia will be against. We are not the first time. Well, Assad does not like ... it happens. Us Poroshenko is also worse than a drunken plumber. Nothing, tolerate. And you Assad suffer. Offsetting.
You can and should be friends with Russia. And do not bring to white heat. So far, as you can see, have not brought. Would bring - as a festive fireworks could not be 26, and all 63 run. Instead of candles on the cake. That's when the holiday would definitely work.
Understandably, on our street.