Ugh on you. Wikipedian patriots. In a sense, from wikipedia. What a word, almost non-literary. I would not risk my Tarakanushka even in such a hot family dispute. Where did you study? Why did nature give you so many eyes? Tear off the legs of your teachers ... Yes, and heads too ...
Sorry, dear readers. This is not me. This is our young ignoramuses. And you are always welcome and necessary for me. Without you, some essential part of my life was not realized. And yet, I am happy that I have loyal friends among you!
And now in order. Why am I in this, to put it mildly, inadequate state sat down to write these notes. Yes, simply because I am in a hurry to fulfill the numerous requirements of my friends.
Embroidery is back! Alive and unscathed. Even replenished. Directly not small fry of a cockroach, but a normal respected cockroach. And he immediately fell into the hands of these failures with eyes only to look. But not to see.
I'm staying at home. The mood is great. Cockroach pancakes erected. Warm, dark, and fleas are not dragged around the house. Paradise ... Or, in a fashionable way, nirvana. And suddenly screams. Yes, such suspiciously "loudly scared." Like, Okrugoradsky, save and save! In, damn ... ate.
I go out, and there stands our Vyshivanok, and there are snotty tarakas around the crowd. Uncle Okoloradsky told us to lift your paws and throw them on the road! This means a cry and an accusation in one bottle. And I see, guys are not joking. Yes, and Vyshivanok understands that they are not joking. And ... like a shield behind a photograph.
That's where I was. And here with what cockroaches from one can the carcass ate. I looked. The youth hit the cuffs, but so, for the pro forma. To be respected, and Vyshivanka invited to pancakes. Deserved.
In order for you to understand why, I will publish a photo. Though difficult for me to do this. Non-Internet insect. Ukrainians will understand the joke. And for the rest I will leave the intrigue to the end of the notes. Vyshivanok there at the foot of the second left was attached, if that. Just not sure that you people are able to see it.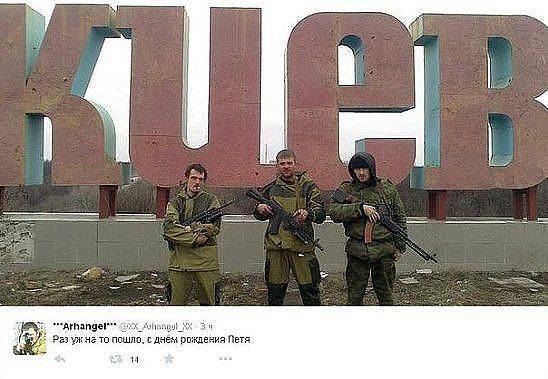 And now about affairs in our long-suffering, more precisely, multi-sold country. About what I always write for.
Humming something in Ukraine. And so great buzzing. I did not understand at the beginning why. Now it is. Humming, because the whole world turned to us if not backwards, then sideways. Syrians intercepted global interest. And the aggressor country is again to blame. Here she does not live so that we live ... For free. She really got the terrorists down. So much so that even our knees began to knock for fear.
Horse racing is not interesting to foreigners. Vyshivanki all purchased, who are interested. With the tridents a la Neptune photographed. And ... go about their business. And we?
Thanks to the Americans. Do not throw in such a crucial moment. Or decided to scare Russia. How are you, naked ... something Russian hedgehog. Our, radish, yesterday even the gorilki hryapnuli for joy. The American entered the Black Sea again.
Destroyer of the US Navy "Porter". The ship is equipped with a missile defense system "Aegis" and cruise missiles "Tomahawk".
"This operation is a demonstration of our unwavering commitment to NATO's collective security and loyalty to lasting peace and stability in the region, particularly in the light of the Russian invasion of Ukraine," the US Armed Forces said.
Only the Crimean cockroaches report that this thunderstorm did not even dare to approach the borders of Russia. Remember the "foremen of the fate of the world" the shame of the past of the same approach. But our nice. Although the word Ukraine in some official message sounded. And even the name will be forgotten.
And just then another time came from the Europeans. Imagine, they offered Turkey 2 (!) Billion euros just like that. No, of course come up with an excuse. Type to tighten control over refugees. But we know that just like that. Just think, some couple of millions of them live there in the desert in camps. So what? We won 30 millions soon in the steppe will go to live with such utility tariffs.
In Parliament, indignation knows no bounds. European traitors. That Greece, then Turkey. And we? We already do not know who to climb on the neck, to feed and water.
So far, quietly, but voices have sounded about the possibility of snatching some of the money for themselves. Within the framework of the all-Ukrainian love for Europeans, to offer a part of the refugees to us to resettle. Together with the money, of course. Why? It is a good plan.
The Europeans give us money, then some of these refugees there, and we are in Roshen. The refugees, as they see what can be done with the Homeland without any war, will give a fight. And we use them with sticks to the Russian border ... How is the planter?
And you say we have no strategists. There is. Especially when the money smells free. We'll solve three problems at once. We'll rag up some money for ourselves, reduce the number of refugees in Europe for a while, and give Russians a lot of it.
But what you read now is tragic. But it is not clear to the end. My daughter, the one from medicine, told. Of course, I made a smart little face, I think I understand everything. But ... Not really understood. That is why he called this part tragic.
So, attention, in the rating of the quality of death from the Economist Intelligence Unit, Ukraine took the place of 69. In both. It turns out that you can die with high quality and poor quality. We somehow are not particularly high quality die. Just between Colombia and Ethiopia. But the British are the best to die. Directly royally die.
By the way, dear readers, you are not particularly proud either ... Russia is in the 48 place. Also not quite high quality folds fold.
Only now I do not understand, those who die better, immediately go to heaven or something? Without this, purgatory? They survived, and already began to die in different ways. The next step should be a statistical study of the location of the dead in the grave. Type, who, in what position and in what place lies or sits. Maybe write a testament? To be cremated. No body - I am not participating in the stat-poll.
Well, and that now on hearing. I am about the cancellation of elections in the Donbas. Ours have long said that after September 4 elections are not needed. Yes, and they will not. The radians, not those who earned prestige on the Internet, but those who actually tax Ukraine, have long spoken about this. Interest was only one moment. How it will be done. And yesterday we saw it.
I do not know why, but in the Rada they perceived the abolition as peremoha. Not paper, but real. And immediately, hot on the trail issued the following requirement. It is a requirement. Everything that has already been done is good. But it remains to delegitimize power in the LC and the DNI. And for this you need to cancel the election results 2 November 2014 of the year. And then the talk about some republics there will cease altogether.
By the way, if someone did not notice, the names of these republics have now completely changed. They simply do not. There are "separate areas of Lugansk and Donetsk regions". And it is this term that will now be used in official documents.
And at the end of the notes again your
news
. In a sense, the news from Russia. So that they would not lose interest in their country. And this news came from Grozny.
We, Ukrainians, fighters for the Great Democracy, are shocked by another unprecedented despotic, even tyrannical decree, more precisely, by the position published on the site of the Grozny mayor's office. Imagine Chechens completely against democracy. Traditions, you see, they have. Any respect for elders out there. Respect for ancestors. What kind of nonsense? Democracy is the same! So you can do anything that is not prohibited!
So here. The document, published on the website of the Department of Culture of the City Hall of Grozny, was developed according to the canons of Chechen traditions. For the observance of wedding etiquette are responsible organizations and individuals engaged in the organization and holding of celebrations. In case of violation of the rules, the administration of the restaurant or banquet hall should call the police.
Source: http://censor.net.ua/n355134 and http://censor.net.ua/n355134.
According to the order, at weddings it is forbidden to drink alcoholic beverages, shoot from
weapons
, ask for permission to dance, reduce the distance when dancing less than the arm's length. Cutting the wedding cake and dancing the bride were also banned.
"Free replicas and actions are strictly forbidden, as well as various indecent movements (acrobatic elements); dancing with two or more partners in one way out; going into a circle of two or more couples at the same time; going out to the first dance circle, ahead of the older persons present" - reads the order.
No, well, can you imagine? As we are here, so in the full mental corkscrew. Without a chance to get out of it, even to the point of contact with a mental hospital.
Well, here the guy wants to dance acrobatically at once with everyone ... Well, I drank a little more vodka. And "figvam". Observe and that's it. Despotism is complete. Democracy in a vice!
And then, what is this wedding? Without vodka? This is complete garbage. Okay, you can't shoot, although as with us everything is settled down - even from a grenade launcher and to the police. But what, even without a fight?
And what is the strangest thing, not a single moan or cry about the matter from Grozny. As if it should be.
Strange at first glance, these are your Chechens. Ukrainian mind difficult to understand. But if you put it on, then you can upload a picture.
Perhaps it seems to us here that this is respect for our people, for our homeland, albeit small, but homeland, for our parents. And democracy is not particularly affected. For her, there are elections, there are government bodies, there are human rights. Those that do not violate the rights of other people. It somehow became jealous. Why in Chechnya know the difference between democracy and permissiveness, but we do not? Or have we shed some more blood to understand this? I do not know.
Yes, I almost forgot. On the detective intrigue that I tried to squeeze into these notes. I mean, for what they got the cuffs cockroaches and pancakes Vyshivanok. Ukrainians, especially Kiev residents, having seen the photo, probably laughed to the fullest extent. For the rest, who do not know the Kiev roads so well and, accordingly, the designations on them, I explain. The photo was made specifically for the SBU. Unless of course Vyshivanok there suddenly falls. There, too, for the most part people work whose knowledge is based on Wikipedia.
In short. The photo is a completely different city! And this city really proves that Vyshivanok didn't eat in the APU, but in the republican army. What city - I will not say. Still a detective. Let the readers themselves in the comments reveal intrigue. Maybe I'll write the detectives then. What aphid is not joking.
So I say goodbye. Morning has come. You have a calm and happy day, and I have the same undisturbed sleep.