The American television channel FOX News has released a material in which it is alleged that Russian fighters in Syria "imitated" three times the interception of UAVs MQ-1 Predator (USA). TV channel
LifeNews
leads the translation of a fragment of material published on FOX News shopping mall (cited by a US military official):
The first time this happened, we decided that the Russians were lucky. Then it happened two more times.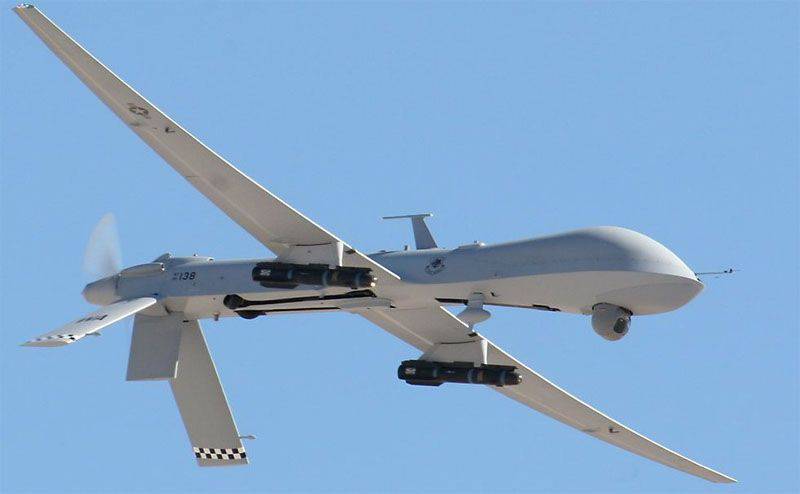 FOX News, citing sources at the Pentagon, reports that an "imitation of interception" of American UAVs occurred over the city of Raqqa, which ISIL militants declared the capital of the Islamic State, as well as in the area of ​​the city of Coban, located near the border with Turkey.
And on another CNN American television station, a report came out stating that "Russia broke promises when it said that only an air operation would be carried out in Syria." Matthew Chance, CNN's head of international affairs, announced that Russia "only intended to use the videoconferencing system, and today the Caspian
flotilla
».
Matthew Chance (translation
InoTV
):
I believe that this event indicates that the Russian campaign in Syria is rapidly gaining momentum. Up to this point - and more than a week has passed since the start of Russian military intervention in Syria - Russia used only
Aviation
to strike at the targets of the Islamic State and other terrorist groups. This wording was given by the Russian side.
But over the past few minutes we have heard a rather unusual statement by the Russian Minister of Defense. He sat in the office of the Russian president (by the way, he is celebrating 63's birthday today) and almost casually announced that the Russian Navy had begun shelling Syria.
At the same time, Mr. Chance did not like that Vladimir Putin congratulated Sergei Shoigu, who reported on the attack with cruise missiles on ISIL positions. How, however, Mr. Chance and the entire CNN take to heart the deaths of the Russian IG terrorists ... It's strange that they have not yet expressed condolences to the insurgents ...