The President of Ukraine continues to vigorously celebrate the transfer of local elections by 2016 to the DPR and LPR authorities. At the same time, Poroshenko comments on the state of affairs in the southeast, stating that the life of every Ukrainian ("Ukrainian soldier") for him is "of tremendous value". If "enormous value", then, apparently, Poroshenko's system of values ​​failed at the time, and he gave the order to continue the punitive operation against the Ukrainian citizens of Donbass ... Now Poroshenko, commenting on the generally observed truce in the region, writes (Facebook)
When they report to me that there are no 200-x, 300-x - this is a great achievement.

This is the result of negotiations in New York and Paris, where they managed to stop the hot phase of the conflict.
By deciding on the further withdrawal of weapons, we were convinced that for the first time the OSCE had the opportunity to perform its special monitoring functions.

Every life of a Ukrainian warrior is the highest value for me. On the conscience of the aggressor more than 8 thousand lives of Ukrainian citizens, and the time will come - with these lists the aggressor will knock on the gates of hell.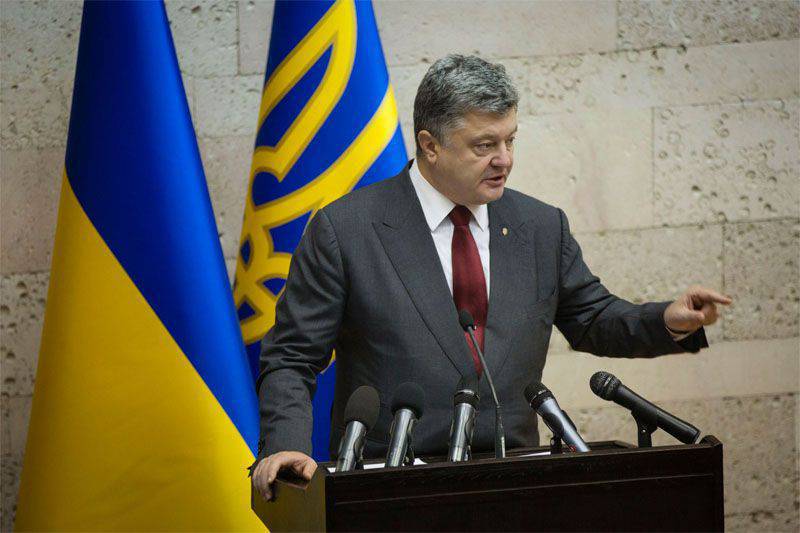 It turns out that the "Russian aggression" in the Donbass is not the only "aggression" that Poroshenko cares about. Now attention ukroprezidenta spreads to Syria.
Thus, speaking to the students of the military institute of Kiev Shevchenko University, Poroshenko said that Russia is approaching a third world war with a military operation in Syria. Quote
RIA News
:
We must understand what the aggression of the Russian Federation in seemingly distant Syria means for each of us and how far these steps, absolutely irresponsible, brought us closer to the third world (war).
It turns out that the fight against international terrorism Poroshenko, like his overseas patrons, calls "irresponsible steps." And what door after such statements will Petr Alekseevich himself knock on? ..