В
блоге
Yuri Lyamin published a material that talks about the typology of ammunition used by the Russian Aerospace Forces and the Syrian Air Force in the Aleppo region. According to the blogger, we are talking about
aviation
bombs with self-aiming anti-tank warheads - RBK-500 SPBE.
Such ammunition is not only for effective destruction
tanks
, but also for attacks on infantry fighting vehicles, armored personnel carriers and other armored vehicles of the enemy. The main point - the technique should have a thermal contrast relative to the "background" surface. It is thermal contrast that allows combat elements to accurately hit targets on the ground.
RBC-500 SPBE provides effective application for targets from altitude to 5 km. At the same time, the speed of movement of the aircraft can be in a wide range from 500 km / h to 1900 km / h as during normal horizontal flight, so when diving and cabing at an angle to 30 degrees.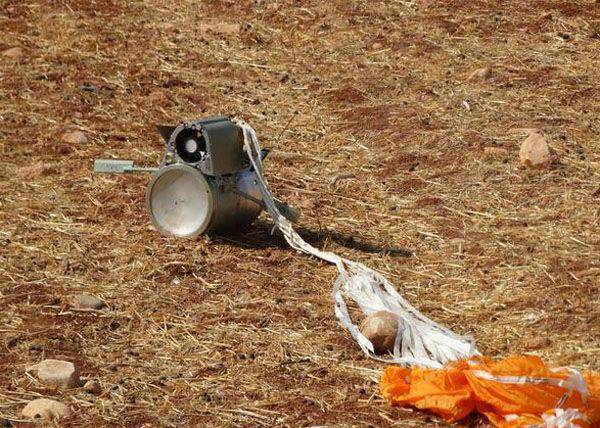 The main parameters of the ammunition:
the mass of the cassette is 478 kg, length is about 2,5 m, diameter is 450 mm, the span of the stabilizer ensuring the stability of the munition when flying to the target is 570 mm. In addition to the command element, the cassette includes 14 SPBE.
Including due to the rotation of SPBE during descent on the main parachute, the earth's surface is scanned along a converging spiral. At the same time, thermal radiation, characteristic of armored vehicles, is captured by the pyroelectric receiver. If the target is in the "field of view" of the sensor, it generates a signal that forms the shock core and directs the striking element towards the target, after which it is defeated.