Samara State Aerospace University brought a promising unmanned aerial vehicle, created for aerial reconnaissance and capable of high-quality photography, tracking moving objects and mapping, for Innovation Day in Yekaterinburg, reports
"Russian newspaper"
.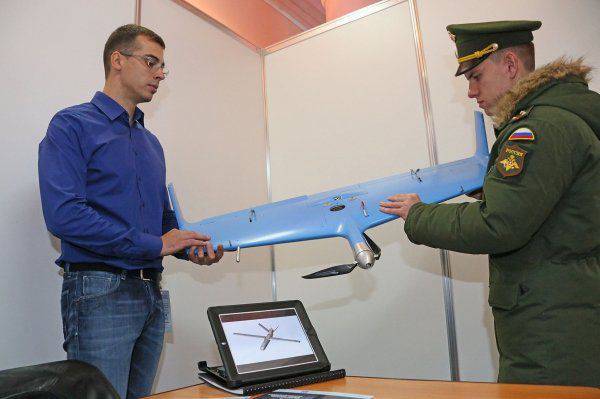 A kilogram weight 4 can carry up to 700 grams of payload, developing 70-90 km / h speed. The distance of the UAV flight reaches 20 kilometers, it can be in the air up to 2 hours. The case of fiberglass allows you to use the novelty at temperatures from -30 to + 40 degrees. The device takes off with the help of a catapult, a parachute is used for landing, and in the event of a breakdown it is possible to return to the launch site on the boomerang principle. In this case, according to the creators, the drone will be able to transfer the fall to the ground without any special consequences.
"The external calibration chamber was set up specifically for photography tasks. You can vary the payload, but in drawing up the project documentation, we focused on obtaining data such as aerial photography, mapping 1х500 and 1х1000, monitoring the movement of objects. All these functions are necessary in the implementation of exploration areas. During the test, we also measured the height, for example, we checked how the foundation of the oil platform was laid, made the 3D-image from the data, designed the radio coverage in the selected territory, which turned out to be quite accurate, "said Anton Nazarov, one of the employees of the UAV laboratory. .
The cost of the finished development of the device will be from 1 to 2 million rubles, which is significantly lower than other projects, the creation of which may require up to 600 million rubles. At the moment, the cluster engineering center is financing the project, but the Defense Ministry is already interested in the drone.