The authorities of the Donetsk and Luhansk People's Republics declared that they are postponing the local elections from October 18 and November 1 exactly to the 2016 year.
Lugansk Information Center
cites a statement by Denis Pushilin and Vladislav Daneig, representing the republics in the contact group:
We studied the statements and recommendations of Mrs. Merkel and Mr. Hollande at the end of the Paris 2 Summit in October. We held here today in Minsk consultations with representatives of the OSCE and Russia. We received instructions from our leaders A. Zakharchenko and I. Plotnitsky.
As a result of this work, we report on the agreement of the DPR and the LPR to the transfer of elections from October 18 and November 1 to the next year.

During this time, Ukraine will be obliged to fulfill all obligations assumed under the Minsk agreements. Namely: to give Donbas a special status, not to allow the prosecution and punishment of individuals - participants of the events in the territory of Donetsk and Lugansk regions, as well as to re-vote the amendments to the Constitution in a new wording agreed with us.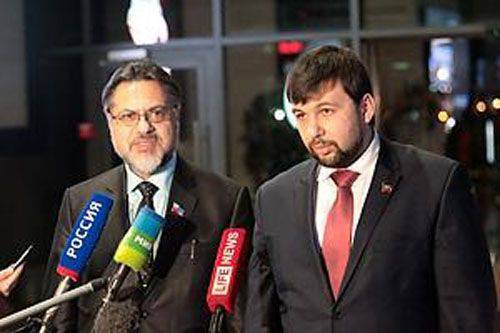 At the same time, the official authorities of the DPR and the LPR declared that they agreed to postpone elections for the sake of peace in the region.
On the decision of Lugansk and Donetsk Poroshenko responded. On his Facebook page, naturally, stating his merit, he wrote:
The direct consequences of the coordinated actions of Ukraine and our partners in the negotiations in New York and Paris are illegal elections, which threatened with the restoration of hostilities and liquidation of the Minsk agreements, canceled.
It turns out, Poroshenko acknowledged the fact that if the people of Donbass had expressed their will at the elections, the punitive detachments would again receive an order from Kiev to the start of hostilities.
Poroshenko:
This opens the way for the return of Ukraine to the Donbass through elections under Ukrainian legislation, based on OSCE standards and, of course, without the occupying forces.
"Without occupying" troops - is it without those who are at the Yavoriv training ground near Lviv or without those who fought as part of the Ukrainian Nazi battalions? ..
Briefly commented on the postponement of the elections in the DPR and the LPR, press secretary of the President of the Russian Federation Dmitry Peskov:
We welcome this decision.
In Kiev, regarding the transfer of elections (transfer there, however, is called "cancellation"), real euphoria reigns ...