The US Department of State has once again announced its concern that Russia is "attacking members of the moderate Syrian opposition." The representative of the American Foreign Ministry Mark Toner, journalists were asked to submit materials that would prove that the Russian
aviation
drops bombs precisely on "moderate opposition". Instead, Toner turned to lengthy and not particularly informative excuses in the style of the unforgettable Jen Psaki (quote
RIA News
):
Our position on Russia has been clear in recent days. We would welcome a constructive position if it takes up the fight against IS. We did not see them hitting the targets of the IS.
At the same time in the British edition
Independent
journalist Robert Fisk writes that in a strange way, the West continues to accuse the Russian Space Forces of the Russian Federation for attacking the "moderate Syrian opposition", having admitted that the project had failed altogether. Fisk writes that "moderate oppositionists" are those who, according to the plan of the West, were to join the so-called free Syrian army, which was prepared by American military instructors. As you know, just recently, the representative of the Pentagon, speaking in the US Senate, announced that "four or five trained representatives of the PAS" ("the Syrian free army) are operating in Syria. Fisk adds that the SSA today does not exist, its main forces have joined either ISIS, or the "al-Nusra Front," or to other terrorist groups operating in Syrian territory.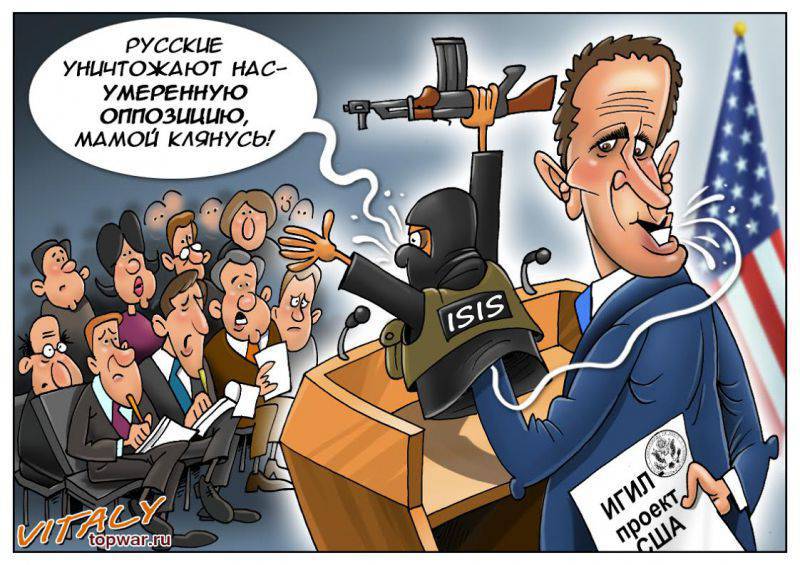 American edition
The Wall Street Journal
writes that the attempt to create and support the PAS by Washington was initially doomed to failure. As a matter of argument, the publication argues that the United States did not rely on undercover and intelligence data, and fully relied on the fact that representatives of the SSA overthrew Assad's funds. As a result, as the WSJ writes, today it is not possible to distinguish where the SSA is, and where the terrorists are ISIS and "al-Nusra."
Such publications in the US media can be called, using a popular Internet meme, a gap in the pattern for the American administration.