22-23 September 2015 of the An-124-100 transport aircraft from the Russian capital of Bangladesh arrived from the Russian company Volga-Dnepr, which delivered a batch of six Yak-130 training and combat aircraft built at the Irkutsk Aviation Plant JSC Corporation. "Irkut" for the Air Force of Bangladesh, according to the blog of the Center for Analysis of Strategies and Technologies, citing Bangladeshi spotters.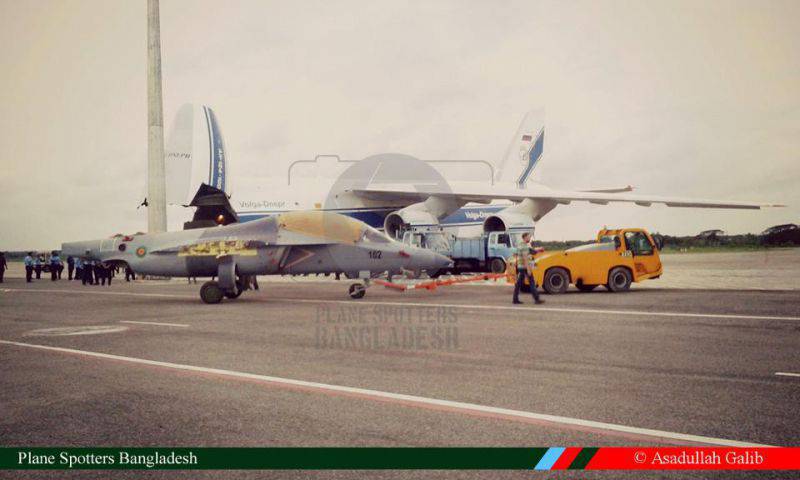 The authorities of Bangladesh and Rosoboronexport OJSC signed a contract for the supply of 16 combat training aircraft Yak-130 in 2013 in the framework of the 1 loan of a billion dollars, which Moscow provided to Dhaka for the purchase of military products. The first aircraft first flew on April 29 2015 in Irkutsk. Previously, there were reports that deliveries of the Yak-130 to Bangladesh would begin in June of the 2015 year, but in fact they began only in September.
"Presumably, the six first Yak-130 aircraft received by the Bangladesh Air Force in September have factory numbers from 130.12.02-0101 to 130.12.02-0106 (respectively, the tail numbers from" 15101 "to" 15106 "). Bangladesh became the third recipient of the Yak-130 outside the Russian Federation after Algeria (which received 16 aircraft in 2011 year) and Belarus (which received four aircraft in April 2015 year), "says the material.