Two "Syrian Free Army" fell into the hands of militants
tank
Syrian government troops, which, as the "Bulletin of Mordovia" notes, is for the civil war - "an ordinary case."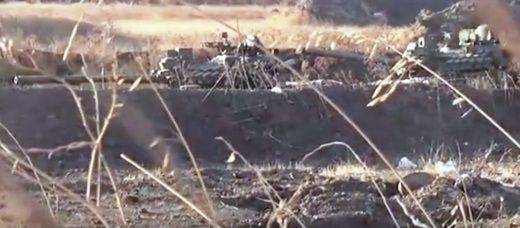 "However, some Ukrainian media tried to inflate this fact to some incredible proportions. For example, the Ukrainian edition dialog.ua placed a mention of this "victory" of anti-government militants with the following title: "The Syrian Free Army captured tanks transferred to Russia by Assad," the article notes.
The publication notes that "how many do not peer into this propaganda video, you will not see a single T-72 on the frames".
"And what kind of tanks did the so-called" free army "seize? In the video - modernized T-55MB, which the Syrian government army bought ... in Ukraine. Moreover, as many as 200 pieces. Machines were refined at tank repair plants "Square", - stated in the material.
In particular, they received protection against anti-tank ammunition, as well as anti-cumulative dynamic protection "Contact-1", anti-cumulative screens on the sides, as well as a launching system for smoke grenades "902B Cloud" and
To protect them against anti-tank ammunition, they installed Kontakt-1 anti-cumulative dynamic protection, onboard anti-cumulative screens, mounted the 902B Tucha smoke grenade launching system and Soda napalm remedy, the newspaper writes.
It is noted that the advertisement of this modification with the B-46-5М engine and modified chassis, thermocasings on the 100-mm rifled gun and the Volna fire control system is located "on the site of the Lviv armored plant."