A strange document was sent to me. They say that it occasionally pops up in different parts of the Internet, but mostly on unimportant sites.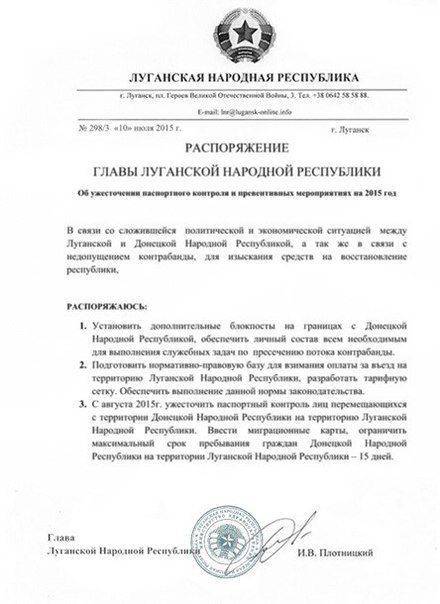 The document is weird. Of course, there is no need to talk about its 100% authenticity in the light of our drawing technologies. Although two times the documents on such forms had to be seen. One time script, one copy. I will say one thing - it looks like. And the signature and seal. But, again, it still does not say anything.
Essentially, the document (if it is one) can also say a couple of words, if we find fault with the wording.
"Due to the current political and economic situation between the DPR and the LPR." Strange, but seemingly no information about the special friction did not pass. Yes, since the victory at Debaltseve, the DPR began to establish something like customs posts at the border, it was. But the posts played the role of the filter rather than the customs. Perhaps something has changed.
Contraband ... Contraband was and is. I do not know how about the future, but what blooms with a double color is definitely. Smuggling fought. With varying degrees of success. And "Bes" fought, and "Thomas" fought, and "Batman".
So, the prevention of contraband, due to which almost half of the population of border settlements lives, seems to be nothing more than a dream. But filling the budget at the expense of transit - quite to yourself. Although the Ukrainian transit is the same smuggling. But if they continue to carry, why not take advantage of it?
Although why is this tightening specifically to the DNR? What, the line Lysychansk - Novoidar completely blocked? Yes, I would not believe.
Moreover, that this can be smuggled from the DNI? And, most importantly, where? In Russia? Bredovato, in the DPR has its own border. You can try to twist schemes there. And the "wet" way was never canceled before winter.
Regulatory framework for charging. That is, if you want to enter the LC - pay. New nothing, last year had to pay from sector to sector. Especially if there is no protection from the "meeting" side. Whoever controlled a piece of land, he levied a fee. Especially with humanitarian workers. And not in money, of course. But they took everyone who could afford it.
Considering how much money is in circulation in the DPR, how many "on money" people can afford to pay for entry into the LPR, they can conclude that the fight against boredom at additional checkpoints is ensured. Because those who are really involved in smuggling decide everything in the upper echelons, and it is unlikely that ordinary customs officers will bother to bother to release them.
Passport control and migration cards. Well, it is, frankly, laughter through tears. Who saw what is the "passport" of the LC, he will understand me. There is nothing to control. The paperwork is highly conditional, especially since all normal people still prefer a Ukrainian (albeit expired) passport. This is at least some kind of document by which you can get to Russia. And with a piece of paper - alas. Exceptions, of course, happen, but it is exceptions.
The obvious stupidity of this "order" leaves no doubt about its fake. The essence of it is one, quite self-understood. Provocation. I do not think that Carpenter could afford to sign such nonsense. So it is unlikely that this "document" costs more than the paint and a couple of kilowatts of electricity spent on it.
However, if it appeared, it means that someone needs it. It's clear. To whom? Good question. For example, Mr. Viktor Tikhonov. But this is a separate topic.
So the sequel will follow, once this alignment has come out.