The Office of the Press Service and Information of the Ministry of Defense of the Russian Federation reports that Russian and Serbian pilots are taking part in joint training flights on MiG-29 aircraft and Mi-8 helicopters as part of the Bars-2015 flight and tactical exercise. Flight crews fly over the Ashuluk landfill in the Astrakhan region. During the flight, a joint inspection of the target situation is carried out, the interaction of the flight group with command posts is being worked out.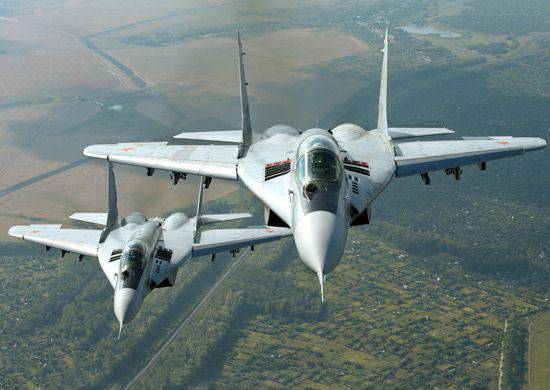 From the message
press service of the Ministry of Defense of the Russian Federation
:
During the exercise, Russian-Serbian crews of MiG-29 fighters will work out elements of air combat, intercept and destroy air targets, apply
aviation
strikes against ground targets, and the flight personnel of the army aviation on the Mi-8 transport and combat helicopters will launch unguided missiles and perform the tasks of finding and rescuing victims.
The flight-tactical training "Bars-2015" will be held before the end of this week. Up to 10 units of aviation equipment are involved in it.
At the same time, the crews of the An-26 transport aviation regiment of the Western Military District are practicing bombing at the Kingisepp range in the Leningrad Region.
Press Service ZVO:
An-26 transport aircraft, if necessary, can perform the tasks of a light bomber. For this purpose, aircraft technicians attach special girder holders to aircraft wing pylons and hang OFAB-100 bombs. An aiming device is installed in the An-26 cockpit. Crews of An-26 airplanes will perform combat bombardment for accuracy on targets simulating the conditional enemy's military equipment in several ways (from cabreirovanie, diving).
It is reported that training bombing in the Leningrad region will be held until Wednesday 7 October.