The authorities of Ukraine have announced that they have begun withdrawing military equipment with a caliber less than 100 mm from the contact line. The representative of the headquarters of the "antiterrorist operation" of Ukraine, Anatoliy Stelmakh, announced that the withdrawal of such equipment would last 41 a day. According to Stelmakh, during this time, the equipment will be driven no less than 15 km.
The words of the representative of the headquarters of "ATO" are given on his page in
Facebook
:
During the challenge, they will be moved to certain areas
Tanks
T-64 and T-72, D-48 and D-44 anti-tank guns of 85 mm caliber and 2B-9 82-mm mortars.
According to the agreement, the withdrawal process is divided into two stages and the 41 day will last. Before the start of the practical phase, the warring parties handed over to the OSCE representatives lists of weapons and equipment, where they indicated that the equipment would be moved to determine areas no less than 15 kilometers from the contact line.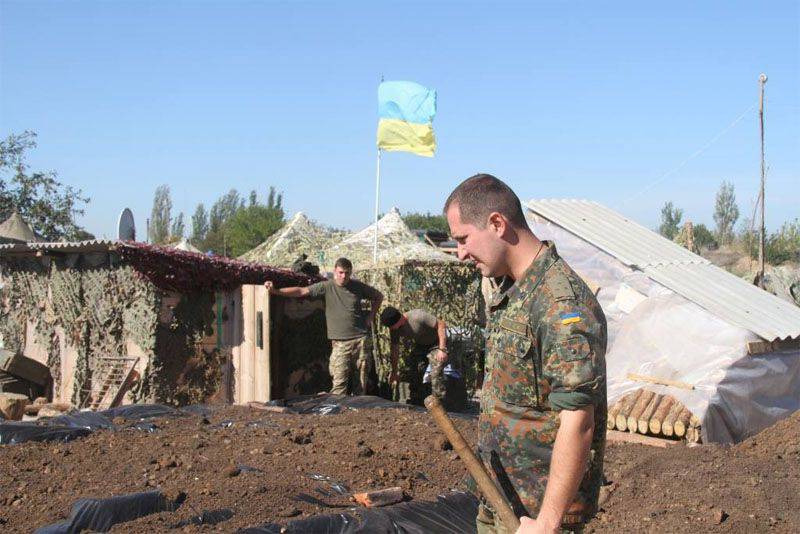 Meanwhile, in Kiev, they continue to discuss the fact that Donbass is preparing for an election "not according to Ukrainian legislation." One of the indignant is the notorious Tymchuk, who previously received the nickname "Speaking Helmet". On Facebook, he writes:
Kremlin "curators" continue to prepare for local elections in the "LC". As one of the "technical" candidates for the post of mayor of Lugansk, the head of the so-called. "Youth Council of the Federation of Trade Unions of LNR" A. Ermolenko. In the "LPR", A. Yermolenko is known for his demands to create a "legislative base of youth policy in the LPR" on the basis of the legislation of Russia.
Well, if legislation ceased to exist on Ukraine itself last February, then it is necessary for people's republics building their future to take someone's legislation as an example ...