The President of Ukraine, Petro Poroshenko, has declared his satisfaction with the fact that gunshots are not heard every day in the Donbas. According to him, this state of affairs "brings Ukraine's return to the Donbass closer". Petro Poroshenko quotes his own "5 channel" (Ukraine):
For today there is absolute silence, for three days not a single shot was fired at the front even of small
weapons
, even with a pistol. This is what gives hope for a very important thing - the return of Ukraine to the Donbass. Without this, it is impossible to return Ukrainian sovereignty to the Donbass.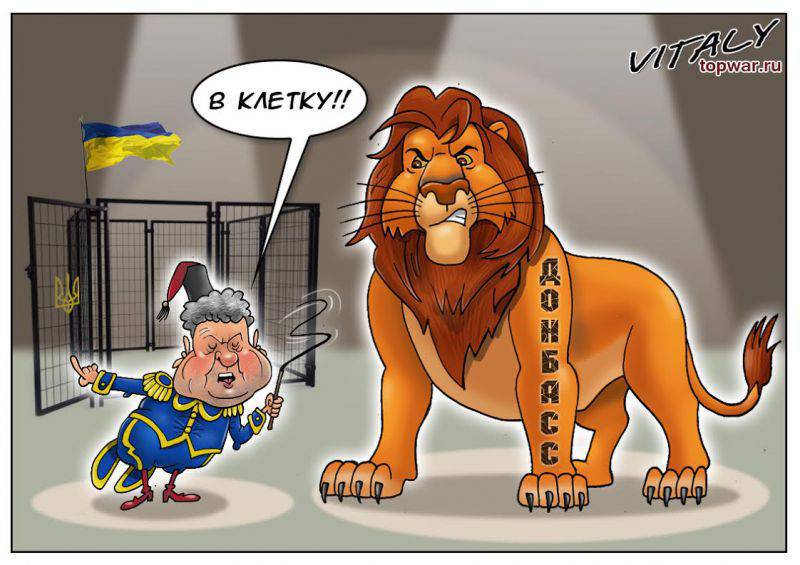 Commenting on the situation in the Donbas, Poroshenko said that "Ukrainian politicians" should participate in local elections. According to him, this "is a constitutional norm." But the trouble is, Poroshenko did not clarify what kind of constitution is being said about? Perhaps the one that Peter Alekseevich himself trampled with his Maidan comrades-in-arms, coming to the Ukrainian authorities.
If, according to Poroshenko, Ukrainian politicians are to participate in the Donbass elections, does this mean that such representatives of the ukrokunstkamera as, for example, Svobodovtsy Pyagnibok, Lyashko radicals and pravoseki Yarosh are meant as "Ukrainian politicians"? ..