Every time it seems to traitors that "the West is strong, and this time it will definitely win." And not to be this, because for us the Truth, and this win.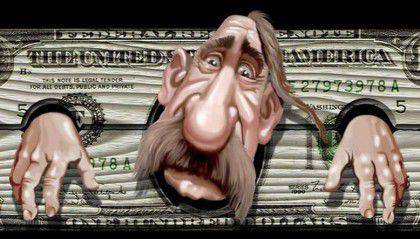 Well, do you jump, overseas?
They wanted to quickly sell their homeland, values, fraternity,
history
, identity and even sexual orientation, and by blood and betrayal to escape to well-fed Europe, having received along the way my thirty pieces of silver?
They wanted to, you can not lie - the predominant sociology showed that about half of Ukrainians dreamed of leaving the country for good, but did not have the opportunity for this. And most of all, the young, "children of independence", wanted to leave, before 25 years (data from the same sociology). To do this, you needed a visa-free regime — your only real "value" for which you were ready to burn the "golden eagles" and kill the children of Donbass.
Patriots they poop, hypocritical clowns. Well, at least you don't need to deceive yourself, because the rest of your hourly waving with rags has not been impressive for a long time.
Nothing you, morons, history does not teach. Because the same traitors as you, in the history of Russia have already been. While Novgorod was preparing for the Battle of the Ice, the Pskov merchants tried to surrender to the Teutonic Order, after which the Germans burned the local town, looted the city, killed many, and took many slaves.
Then there were the events described by Gogol in Taras Bulba. There, too, were their "Andria", who were executed for their treachery.
Then Mazepa tried to go under the Swedes, swearing allegiance to Peter the Great. Then Skoropadsky lay under the Germans. Then Bandera laid down under the Nazis. And they all ended badly.
They all lost by choosing the losing side. Every time it seems to traitors that "the West is strong, and this time it will definitely win." And not to be this, because for us the Truth, and this win.
I have been saying to you, morons, for almost two years: you should not mess with the "West", especially with the Anglo-Saxons. The Irish, who have been living with them for almost a thousand years, have a saying, "Fear the serpents' fangs, the horns of a bull, and the smile of an Englishman." It was necessary to learn history in school, but not to ride! The West has always promised, but never kept its promises. He used, robbed, betrayed, and then sold, merged or even killed his puppets. Begging for natural resources, Europe has always traveled at the expense of looting in other regions, starting with the crusades.
So it was in Asia, so it was in Africa, so it was in Latin America, so it was everywhere. For several centuries. They even have special hypocritical terms for this, such as "realpolitik" or "mercantilism". How do you morons, have the idea that you are special and you will be honest?
You sold Ukraine for cookies, merged the sovereignty of your country, allowed all key posts to be taken by American puppets, split the country, started a civil war, spread terry Russophobia, built a system of total lies, killed tens of thousands of civilians, donated tens of thousands of their punitive fighters. They broke off all the historical, cultural, industrial, commercial, transport and even family ties with the Russians of Russia.
And all for what? What did you get as a result? GDP for two years fell by half. Exports to Europe, where you were so eager, fell by 40-60% (depending on the country). In debt, as in silks. Salaries in purchasing power have fallen three times, utility payments have increased several times, the number of unemployed has increased by several million, the number of beggars has increased even more.
Ukraine entered the twenty countries where massacres are possible, thousands of people are imprisoned for their convictions (political prisoners), many are murdered, thousands of armed and indefinite "patriots" armed and robbing and murdering are rummaging around the country. You are even ready to kiss the gangs of thugs from the IG. You hate, call for murder and torture, write millions of denunciations. You have lost the remnants of humanity.
And what did you get for your betrayal? The International Swaps and Derivatives Association (ISDA) has officially recognized Ukraine's refusal to fulfill its obligations to creditors. The meeting of the standing committee ISDA decided to recognize the technical default of Ukraine from October 4 2015.
Tellingly, ISDA includes the largest US banks 15. Your masters, whose slaves you voluntarily decided to be two years ago, have merged you.
Visa free regime you? Cheap loans to you? Modern technology to you? Investing you? New jobs for you? Male sexual organ to you! You are not even allowed to be refugees in the EU, unlike Arabs and blacks.
Now, after the declaration of default, lenders (including American ones) will methodically, cynically and ruthlessly take all the hides off you and carve the carcasses. And then, when the looting is complete and final, and there is nothing left to take from you, you will be thrown into chaos and poverty, which you yourself helped to create (and, most likely, dissected into several parts). As has happened with many other countries - Yugoslavia, Afghanistan, Iraq, Libya, and so on.
And your hopes that they will take away the remnants and begin to somehow restore and develop them are just as vain as your hopes for a visa-free regime and "European" salaries. What, someone invested in Afghanistan? Did you build production in Iraq? Developing Libya? No one invests in something that cannot be guaranteed to be held, it is easier to saw and plunder, and then leave the scorched desert. But you, morons, even your own mistakes do not teach you what to speak of others.
Why did I get an idea of ​​Novorossia? To separate the healthy areas from the plagued, enthused - it was a great idea. Real, ideal democracy: Russophiles to the east, Russophobes to the west, peacefully and without coercion. Like the Czech Republic and Slovakia, culturally. Evacuate normal people from affected regions to the maximum, and then isolate yourself from them, and let them cook in their schizophrenic hell, in poverty, in debt, in Ruin.
But no, not only maydanutye themselves are rapidly going to hell, they want to pull as many of the rest as possible behind them.
For almost two years they have been told: Stop! There will be a drop in production, poverty, default, unemployment, decline, rising crime! All our predictions come true (because they are economically justified and easily miscalculated), and they continue to jump and blame for all the troubles of "moskaley". They destroyed everything themselves, and Putin is to blame.
The betrayal does not pay off, and here even the silver coins were not paid, only cookies and empty promises were avoided. No new markets, no investment, no help, no debt restructuring - nothing. And I'm not at all happy, I'm just terrified, how can you be so naive and stupid ?! Morons, you do not even understand what they have done!
And now, when Western "benefactors" begin to show their true predatory essence, how can you not remember Taras Bulba: Well, have your lyakhs helped you?