An international exhibition, Innovation Day of the Ministry of Defense of the Russian Federation - 2015, opens today at the Congress and Exhibition Center of the Ministry of Defense of the Russian Federation, which is dedicated to finding high-tech products and innovative technologies, as well as exploring the possibilities of using them to improve the country's defense capability reports
RT
.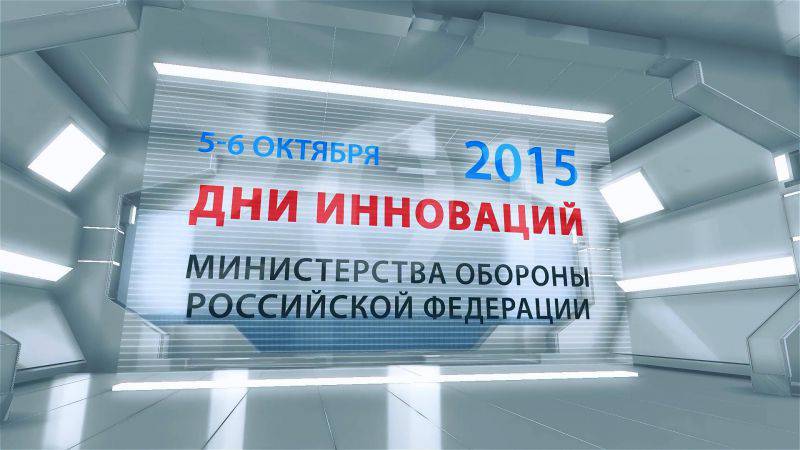 The peculiarity of this event is its geographical scope - enterprises and military-scientific institutions of the Eastern, Southern and Central military districts will present their innovative developments for the first time not only in Kubinka, but also in Yekaterinburg, Vladivostok and Rostov-on-Don.
According to the Acting Colonel Roman Kordyukov, Head of the Main Directorate of Research Activities of the Defense Ministry of the Russian Federation, "in closed pavilions and in open areas with a total area of ​​more than 25 thousand square meters. meters will be presented 1785 exhibits and developments of military institutions, research institutions, military schools, enterprises of the domestic military industrial complex, foreign companies in various fields of science and technology. "
The special commission received more than a thousand applications, however 300 of the best enterprises of the military-industrial complex and military-scientific organizations of the Ministry of Defense, who will present the latest developments in the field of radio-electronic, telecommunication and information technologies, robotics, optics, simulators, integrated laboratories, simulators and other fields, were among the participants. .
"Every year the number of proposals, scientific developments, innovative projects proposed by the Ministry of Defense of the Russian Federation by various enterprises, scientific organizations and simply inventors increases many times. In 2015, more than 5000 of this kind of proposals were considered. According to the results of such events, more than 300 developments have found their practical application in the Armed Forces of the Russian Federation, "said Kordyukov.
The exhibition visitors will be presented with the latest and
historical
samples of military equipment and weapons. Also, as part of the event, a wide cultural and leisure program is planned, in which creative and musical groups of the Ministry of Defense of the Russian Federation will participate.